Post by Cynthia; Photos by Bobby
So we are woefully remiss in getting timely updates out.  We are so sorry.
We have loved Newfoundland and are looking forward to sharing more of it with you.  Our excuse for not doing so yet is a combination of laziness, hecticness, and poor connectivity in our campsites.
Also, Bobby is working with some new photography software and experimenting with different types of pictures, so his processing of pictures has been delayed.  But they should be even more awesome when they return.  Which we promise will be soon.
To just catch everyone up, we continued throughout Newfoundland and just this week took the short ferry (7 hour ride versus the 16 hour one) to Nova Scotia and will soon be exploring this province.
In the meantime, I'm going to share some pictures we took of the inside of our camper very early on, something we've been meaning to share for months!
So, as a quick reminder, here's what the Karavan looks like when its all compacted for towing.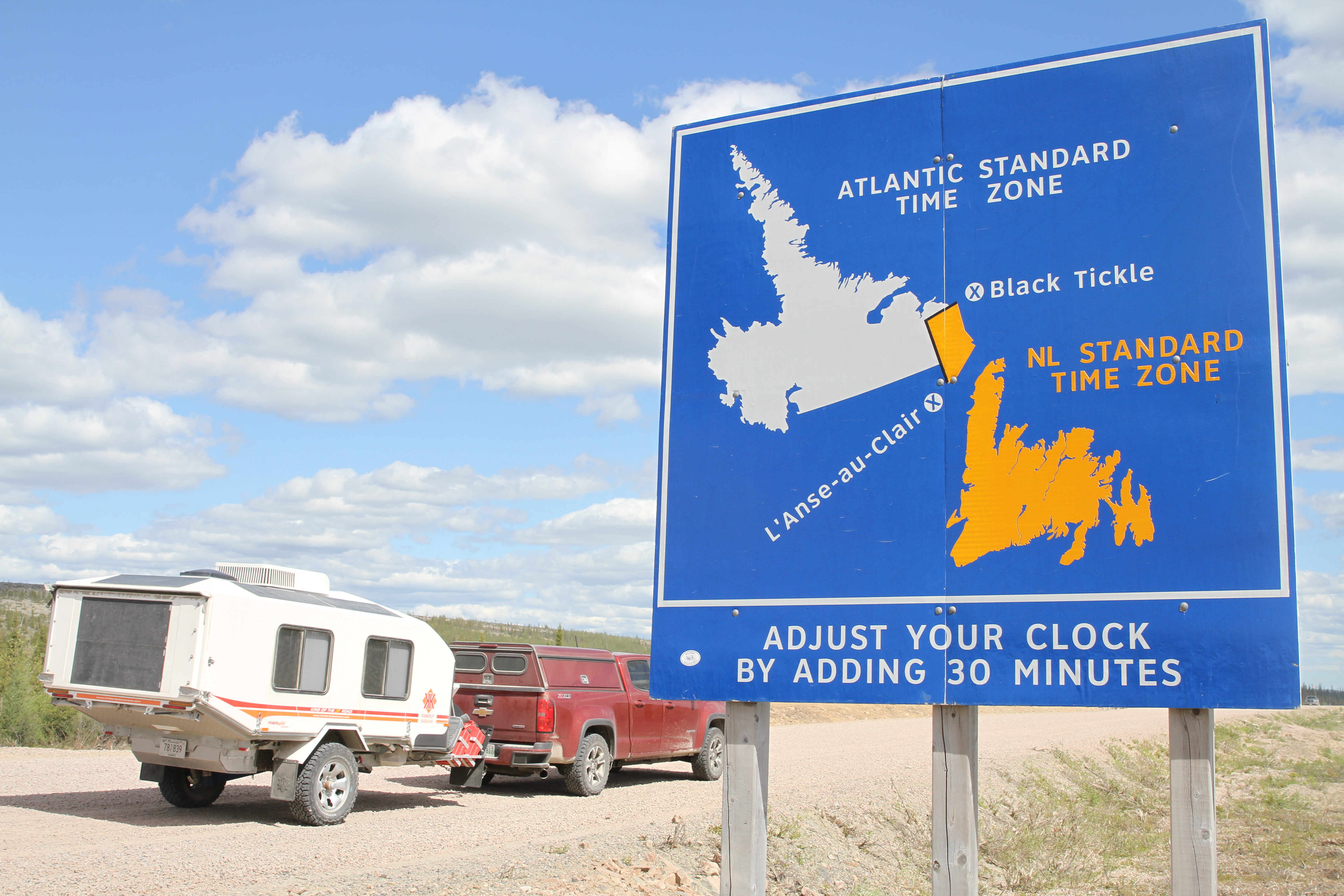 And here's what it looks like when it's popped up and we are ready to live in it.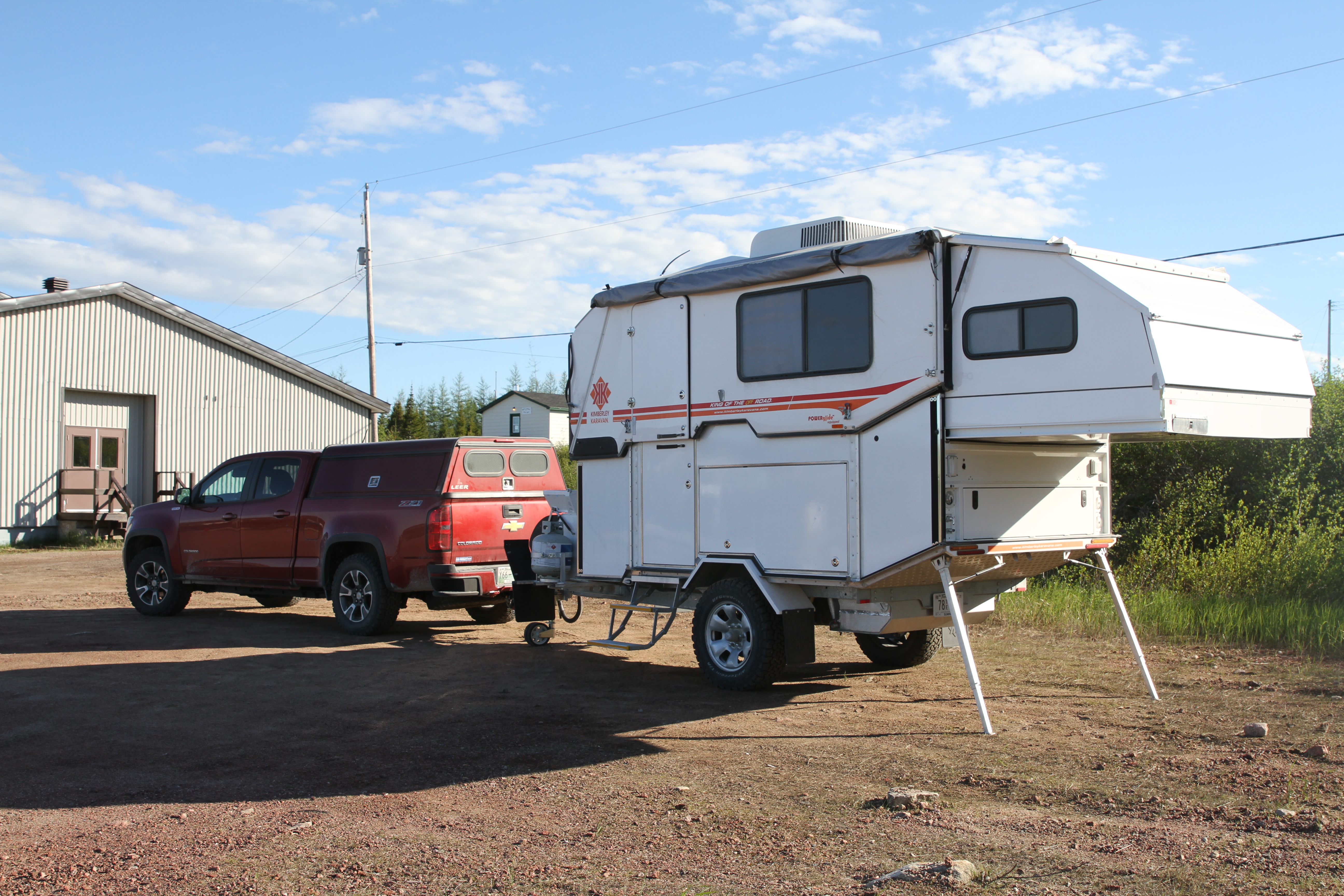 And here is what you see when you first open the door and look to the left.  That's our kitchen area – the hole in the countertop is where the cooktop still needs to be installed, and a microwave beneath it.  But there is a fridge there, and a sink.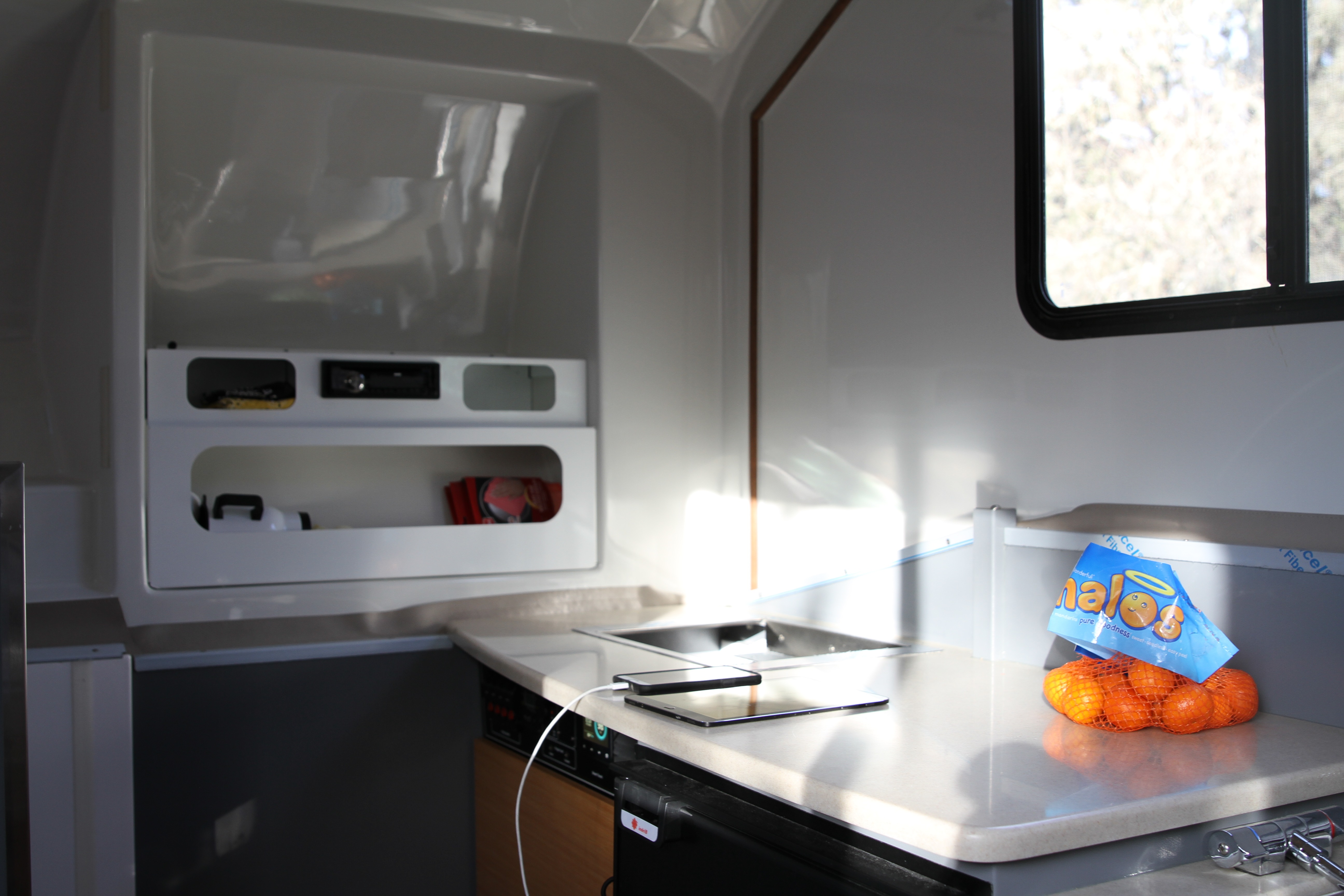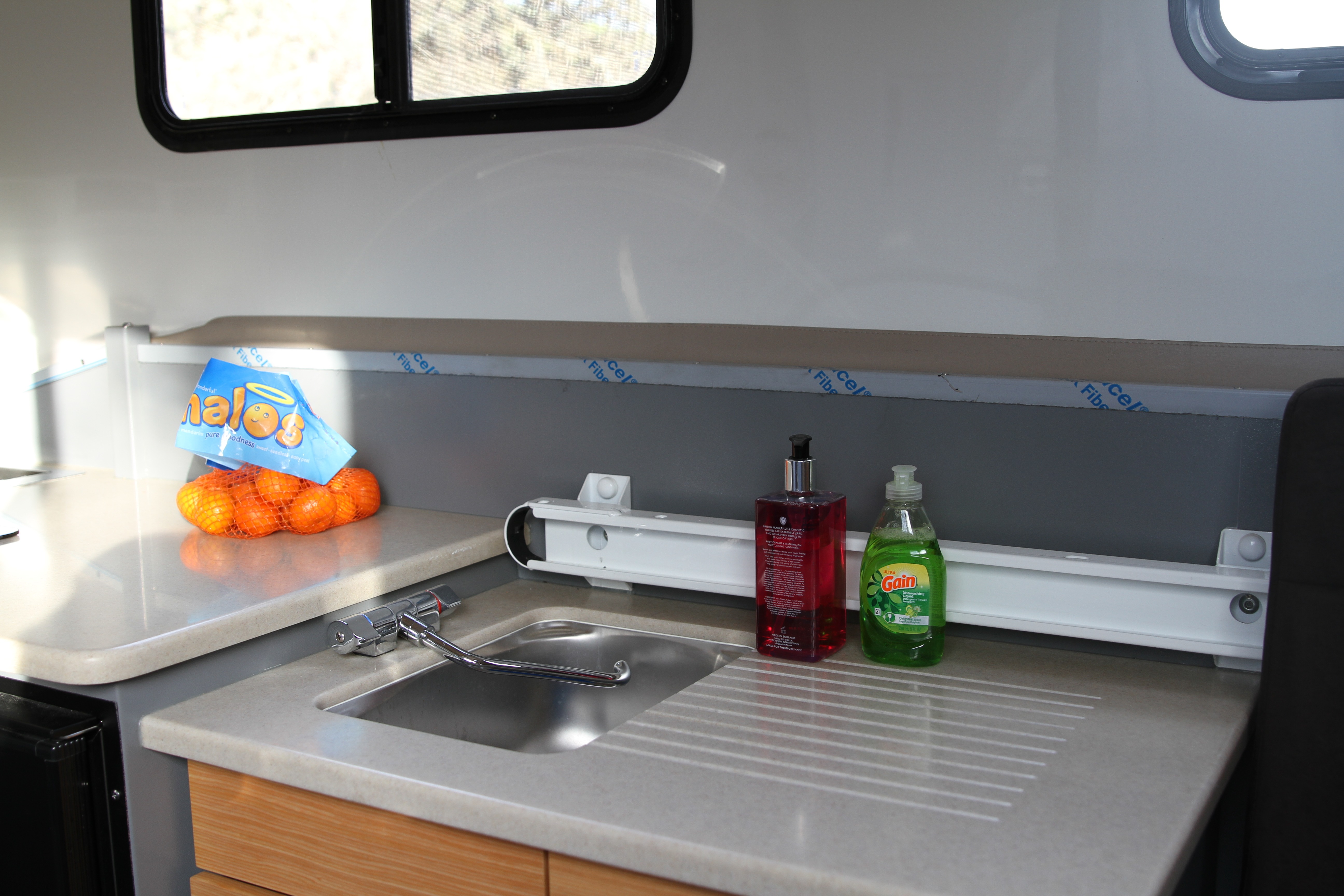 Looking more to the left, is the rest of the front wall and the little bathroom area (there is a tiny composting toilet and shower stall).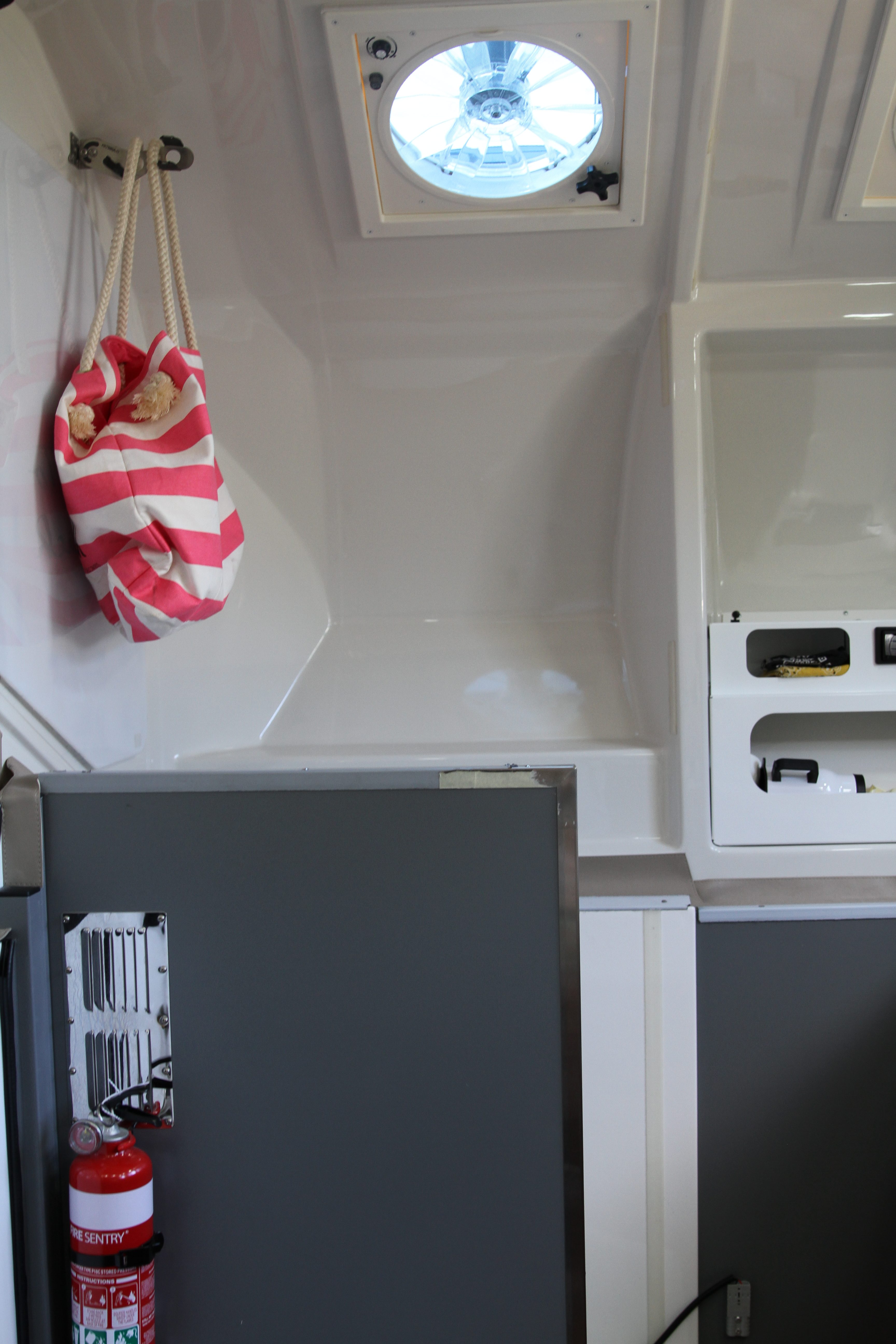 Storage is an issue in the camper, but now I have a hanging shoe organizer that hangs on that wall next to the fire hydrant.  It holds shoes, the dogs' leashes and sprays of the bug and sun variety.
If you turn to the right, there is a seating area around the table — two nicely upholstered benches (that we keep covered with blankets to keep dog hair off).  Bobby didn't seem to get much of a picture of those, but further on is our amazingly comfortable and somewhat spacious (for a camper) queen-sized bed.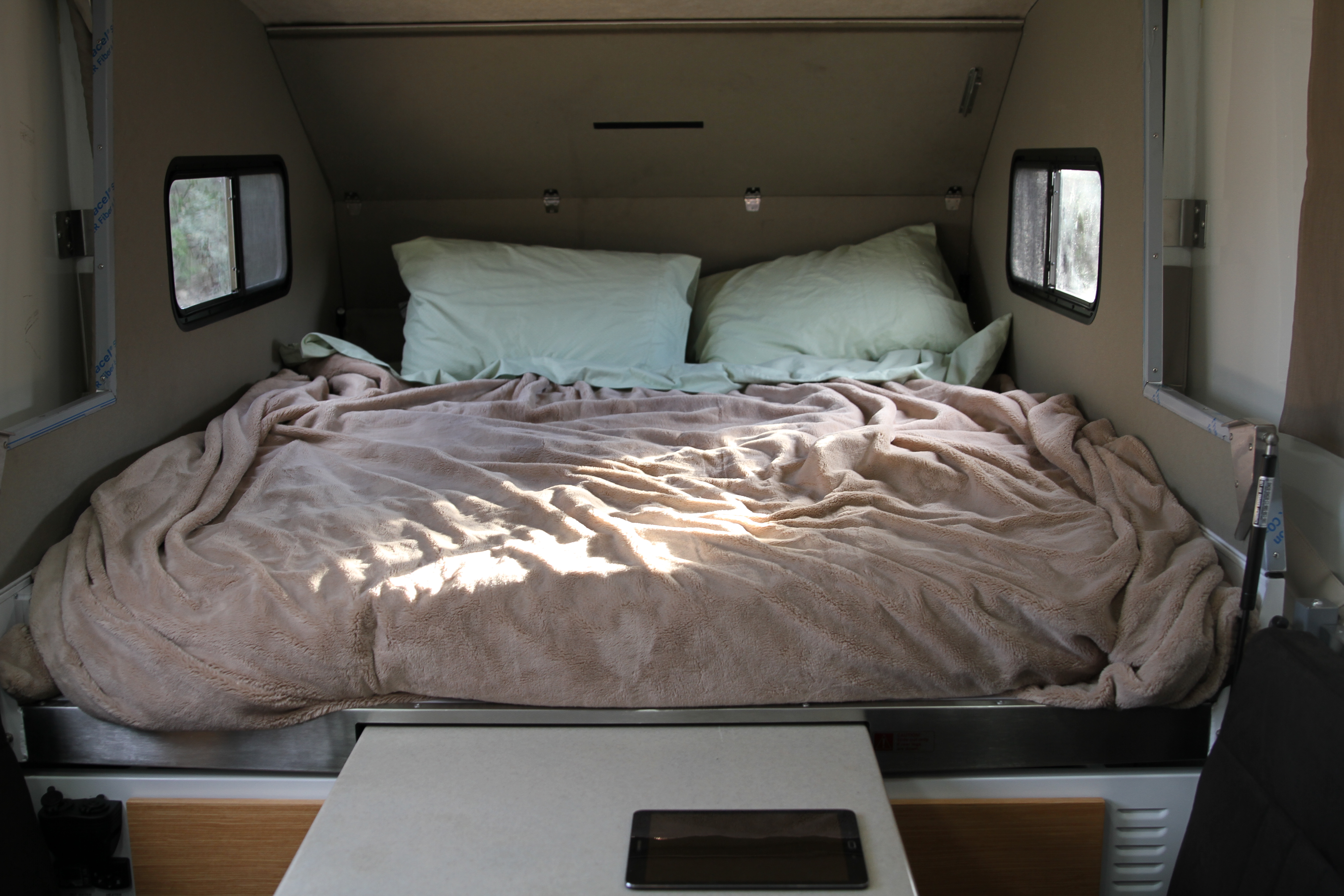 There are two drawers underneath the bed – we each have one for our clothes.  There's a little extra storage under the short couch that is between the kitchen counter and the bed – we store some extra food, the vacuum, hair dryer and some books there.  There's a set of three storage drawers under the sink that hold our dishes, toiletries and extra linens/towels.  And that's pretty much it, other than a little space under where the stove goes for cleaning supplies.
So we are embracing minimalism.  We store the rest of, well, everything, in the truck.  Here's what we did there.  First, we put a camper shell on top with side storage panels, and got a Decked system with pull out drawers on the bottom.
We have plastic storage bins with food, extra clothes, gear, and whatever else we didn't part with.  We have camp chairs, a generator, a table, dog food, dog toys, and safety equipment back there.
The drawers slide out.  Here's one just to give you an idea of the space there.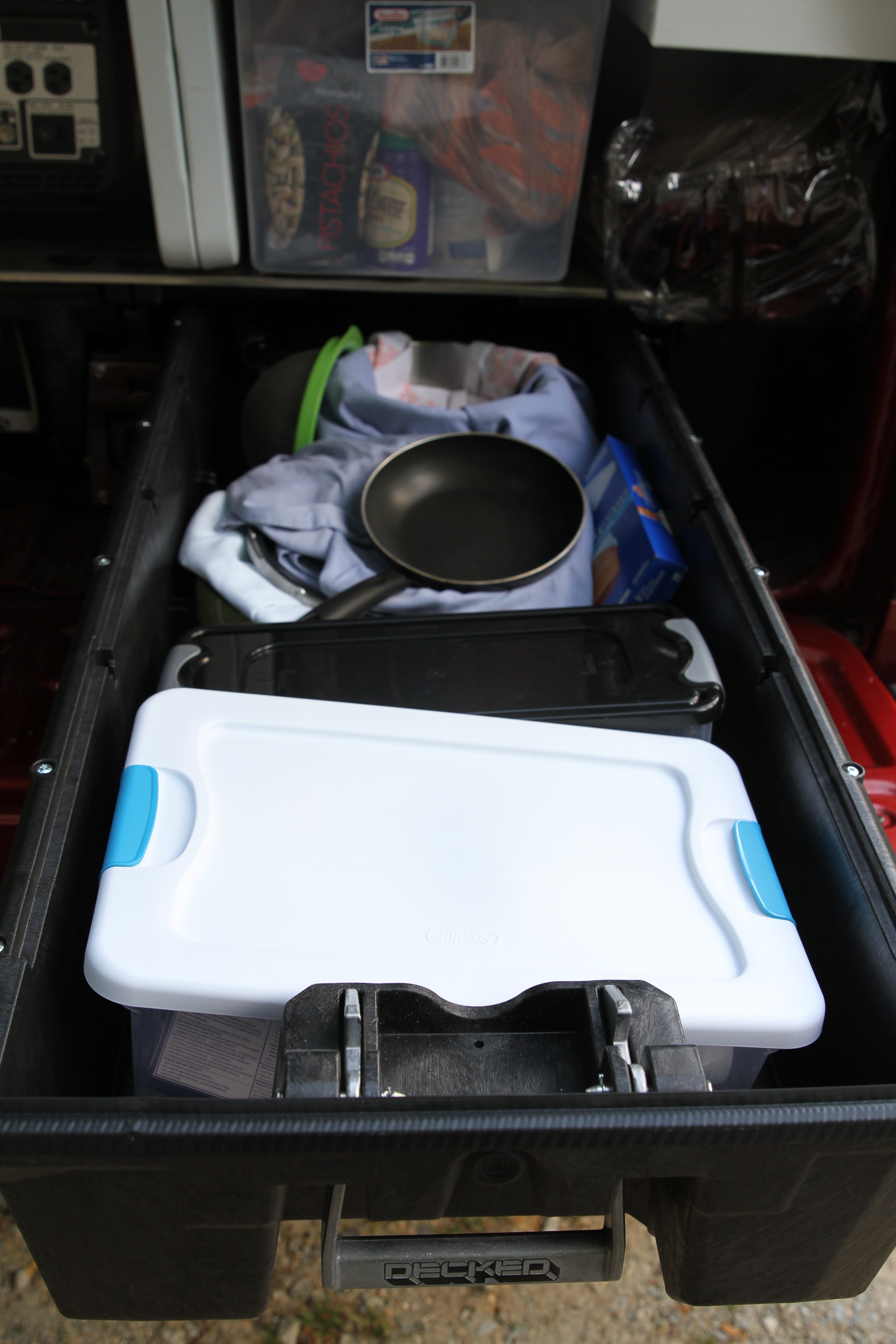 In the side storage we have a bunch of other things.  This one has my yoga mat that has not been used once (frowny face); an air compressor to air up or down the tires, hiking shoes, a hatchet, saw, axe, extra towels, bags, more packs and whatever else has managed to fit in there.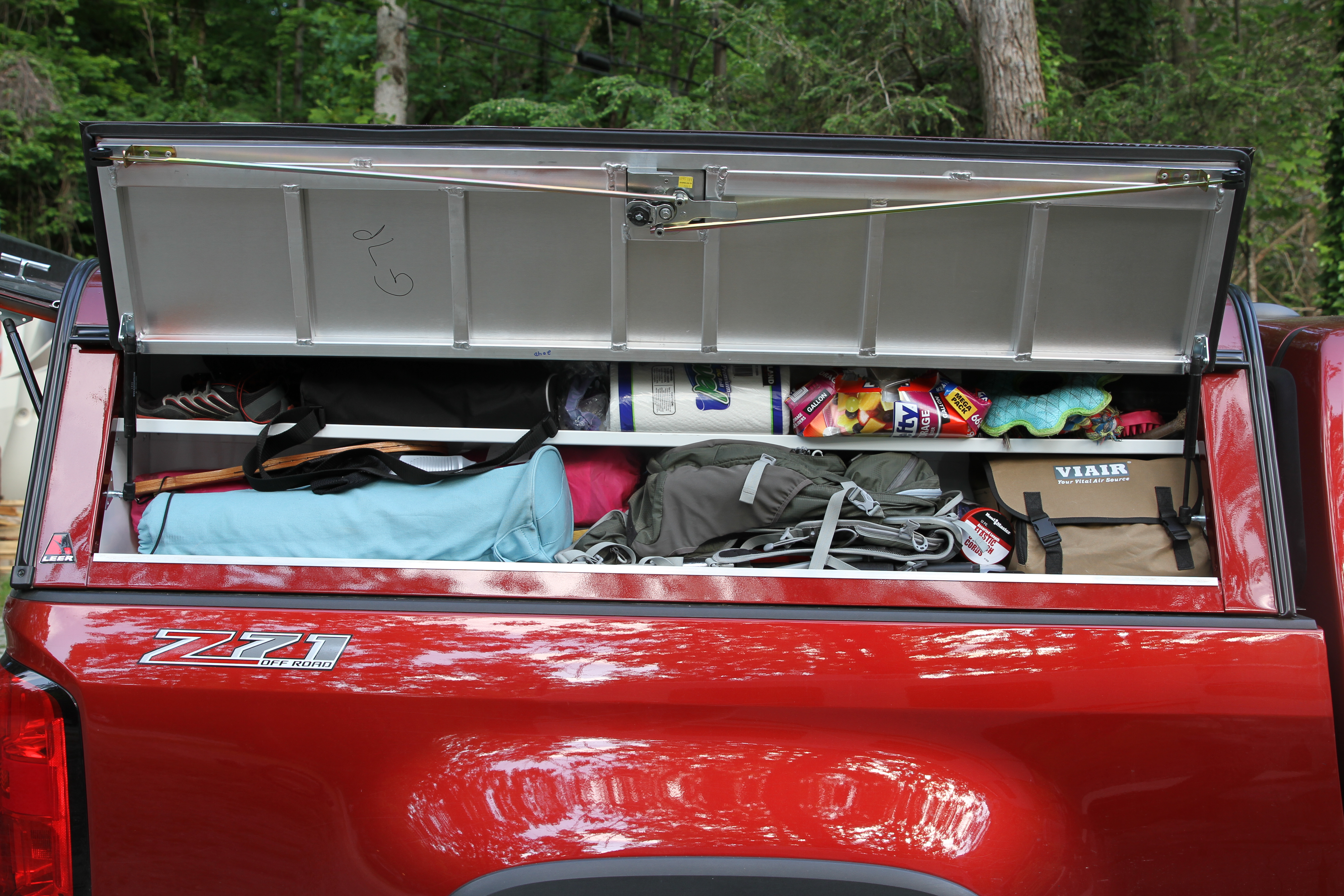 This other one has our portable toilet system (which is a bucket, seat, and these bags that somehow don't make it gross – I don't know, it's not like I'm going to use that).  We have a fan, a heater, jumper cables, first aid kit, tablecloth, and again a bunch of things we may never need but need to have.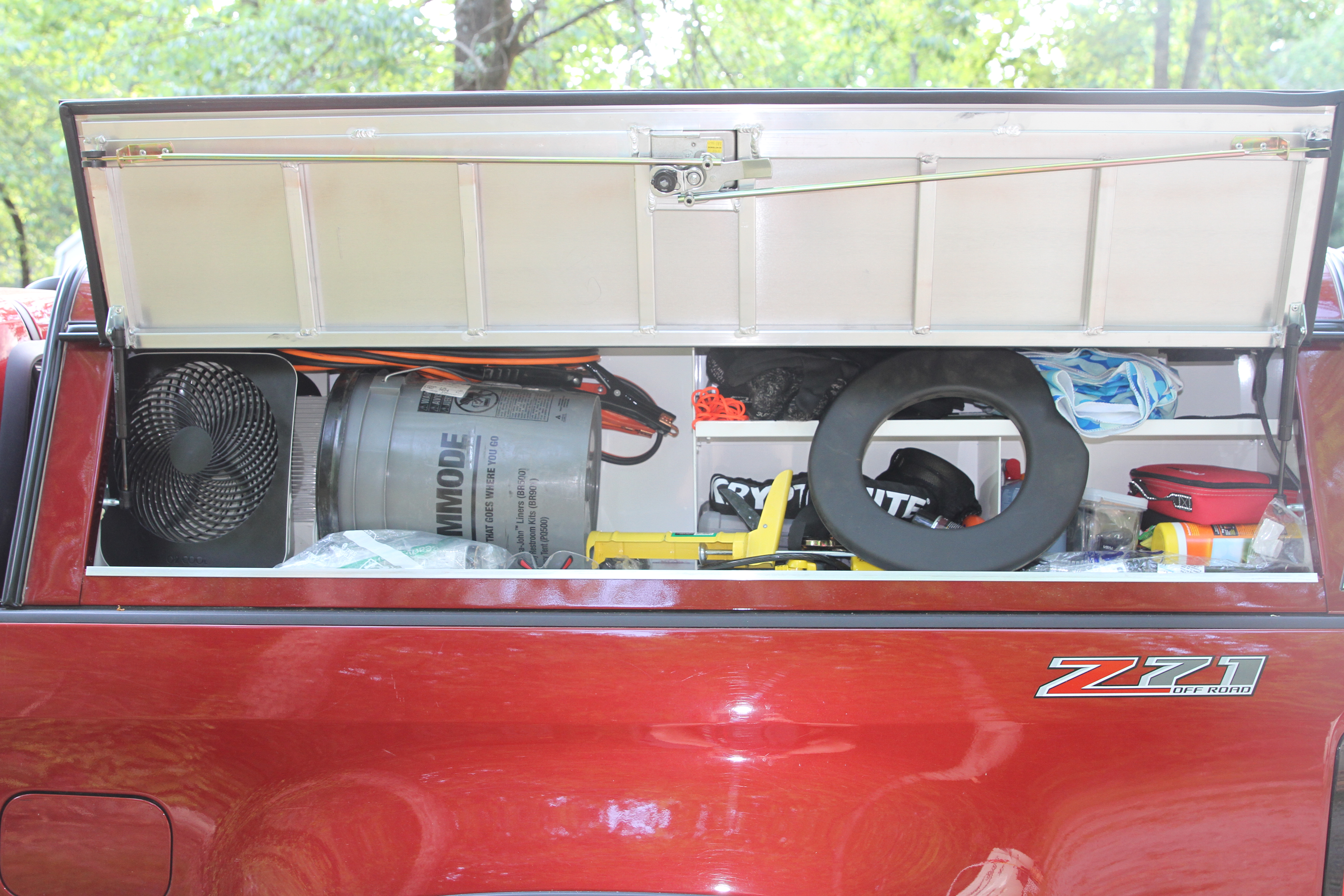 So, that may or may not give you an idea of how we are living.  If you're ever in the area though, we are happy to give you a tour.
We do it all the time as we are constantly meeting people at campgrounds or anywhere we stop who ask about the camper. We've talked to more people in the last three months than we probably did in the last three years!  But it's been a fun adventure so far and we look forward to sharing more of it with you very soon.
Also, we so appreciate the comments and support from everyone.  Thanks for reading, thanks for your patience, and thanks for being part of our lives!