Post 90% Bobby, 10% Cynthia; Photos by Bobby
The day has finally come!  Cynthia recovered so Tuesday morning we finish packing up the Karavan and did our final walk-through of the house.  We were able to say a final goodbye to our neighbor, Ryan.  One last look at the house and we hit the road.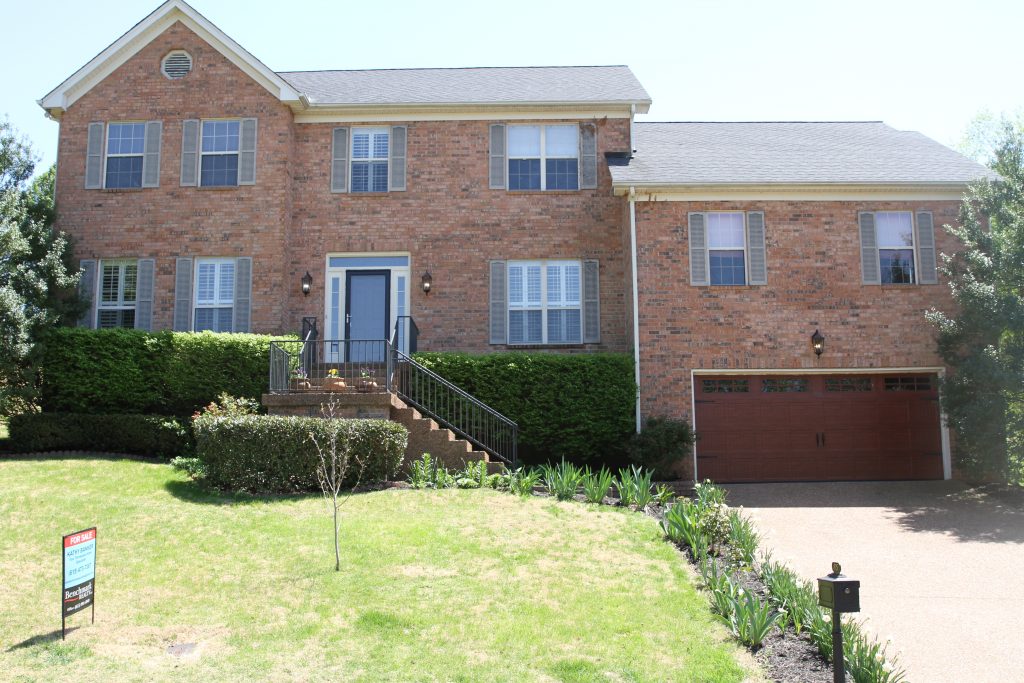 We had planned to drive north to Kentucky to see Mammoth Cave, tour some bourbon distilleries and visit some of Cynthia's friends.  But it had been so cold in Nashville, and the weather wasn't looking any better north, so Cynthia's flip suggestion that we go to Florida started to make a little more sense.  In any case, we decided to head south.
A few months ago at an RV show, we had received an invitation for some free nights at Ocean Canyon Properties Campgrounds and we decided to take advantage of that by visiting the Mountain Lakes RV Resort in Langston, Alabama.  It was a short three hour drive – the pups' first adventure!  The Resort is a pretty campground right on Guntersville Lake, and yes, the sunsets are lovely.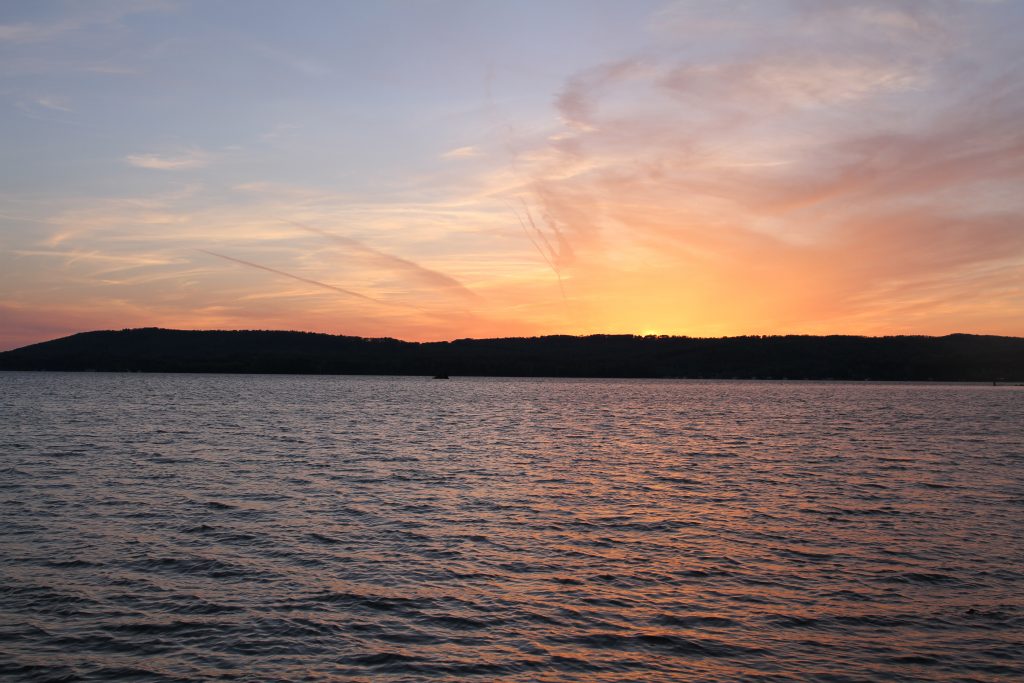 We spent Wednesday being lazy, napping and decompressing and meeting some of the other RVers.  We met a particularly lovely couple, Al and Linda, who were super helpful and shared some of their best tips for Newbie Full-Time RVers, gave us some information on local eateries and sites, told us about the Army Corps of Engineers campsites, and even generously gave us a bottle of what they spray on the RV tires to avoid ants.  They were just a pleasure to spend time with.
We also had to sit through a sales pitch for a membership at the Campground.  Private campgrounds (at least this one) operate on a one-time deed purchase, plus an annual maintenance fee, similar to a timeshare (although generally with a lot more usage than a resort timeshare, and the more you use it you can drastically reduce the per night cost over time).  In case you're wondering, no, we didn't buy.
Best we can tell, there are pros and cons of  campsite memberships and their related networks (such as Coast to Coast).  There are also discount memberships like Good Sam's and Passport America that offer a percentage discount at public campsites in their network.  We are brand new to this Full-Time thing and we don't know yet how or where we want to spend the majority of our time, so a smaller investment like Good Sam's (which we already have), and our military discount work for us right now.  We have stayed at sites for under $10 night, and of course we can dry dock (no hookups) if we choose to.
Anyway, given that it was Penelope and Banner's first time as RVers ever, and we had been anxious about how they would do, we are pleased to report they did great!  Penelope is an anxious little Rat Terrier and she did pant and shake for the first two hours of the car ride but then settled down.  Banner, who is a Dogue de Bordeaux or French Mastiff (and also recognizable as Hooch from 'Turner and Hooch'), just slept.  We had gotten Penelope a bark collar the week before, which immediately worked and made us wonder why we hadn't done that years ago rather than listen to her shrill vocalizations over everything that moves.  The campground even had a little dog park that they enjoyed.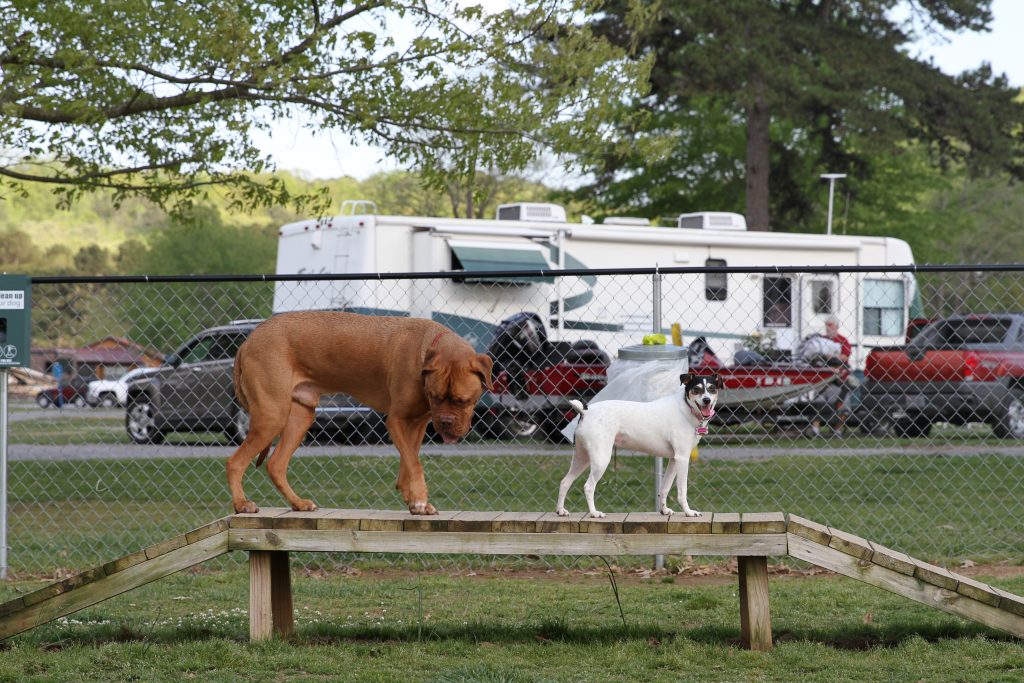 Another bit of good news – the Anderson Plug finally works with the DC to DC Charger!  We need to disconnect the charger if we'll be without a power source (the plug or a hookup) for a while, but other than that, we are able to charge away!
Thursday – day 3 of our Full-Timers Life – found us being a little more adventurous. We visited High Falls Park (recommended by Linda), which is an amazing 35-foot waterfall that spans nearly 300 feet.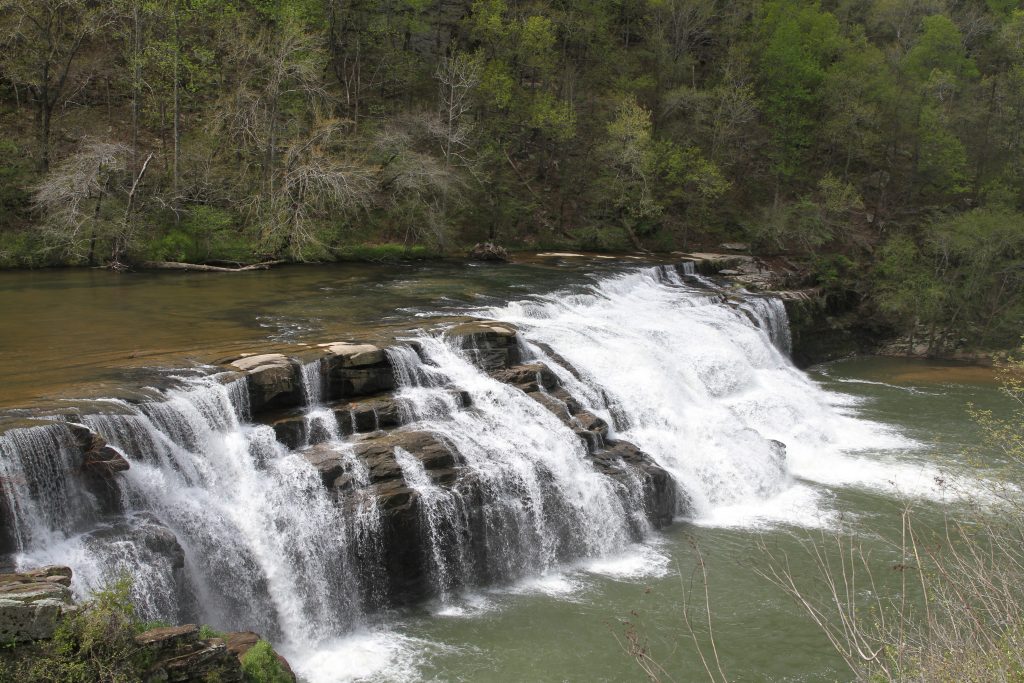 There is also an Arch.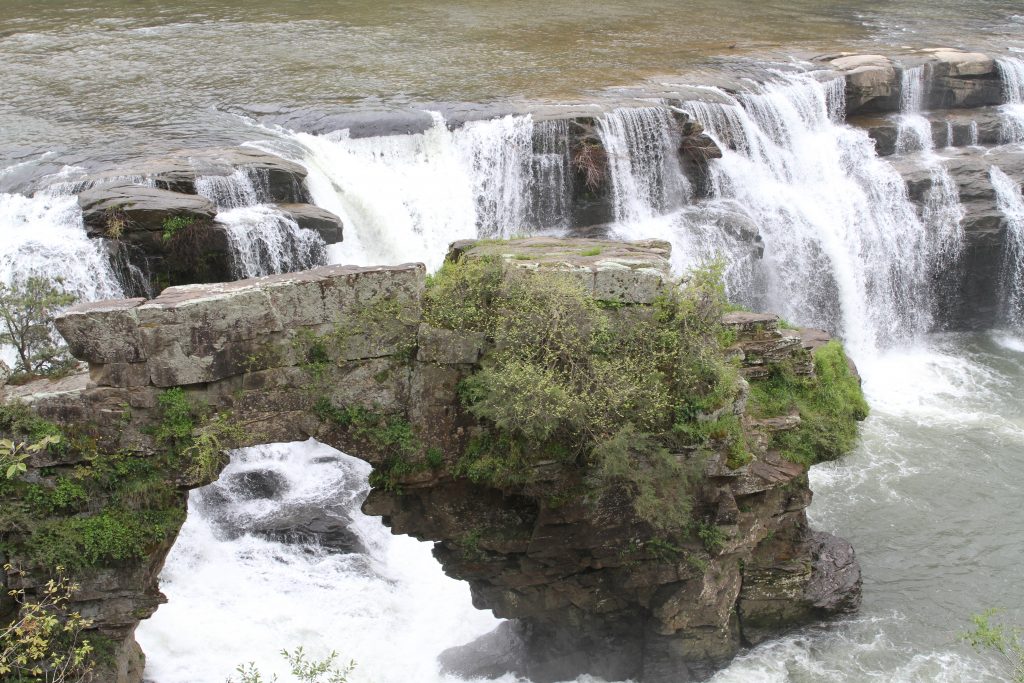 We then walked down to the pedestrian viewing bridge.
We then walked along the bank to get a better view of the Falls.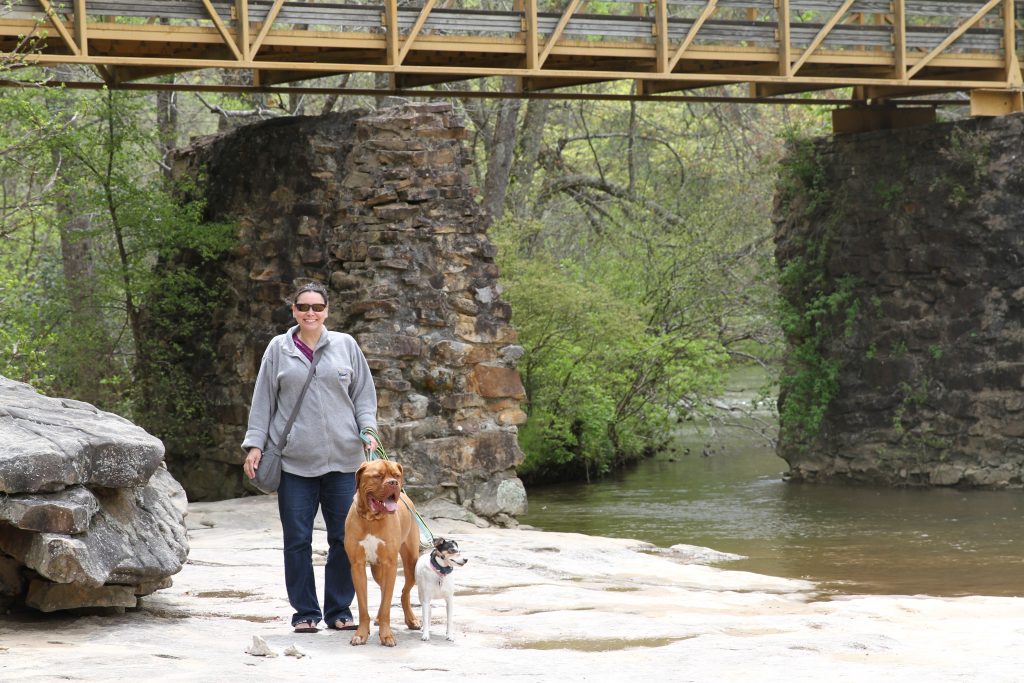 Cynthia was then crazy brave and went "near" the edge to pose for a photo with the dogs.
The Park had some nice little trails that we briefly explored and found a nice stream.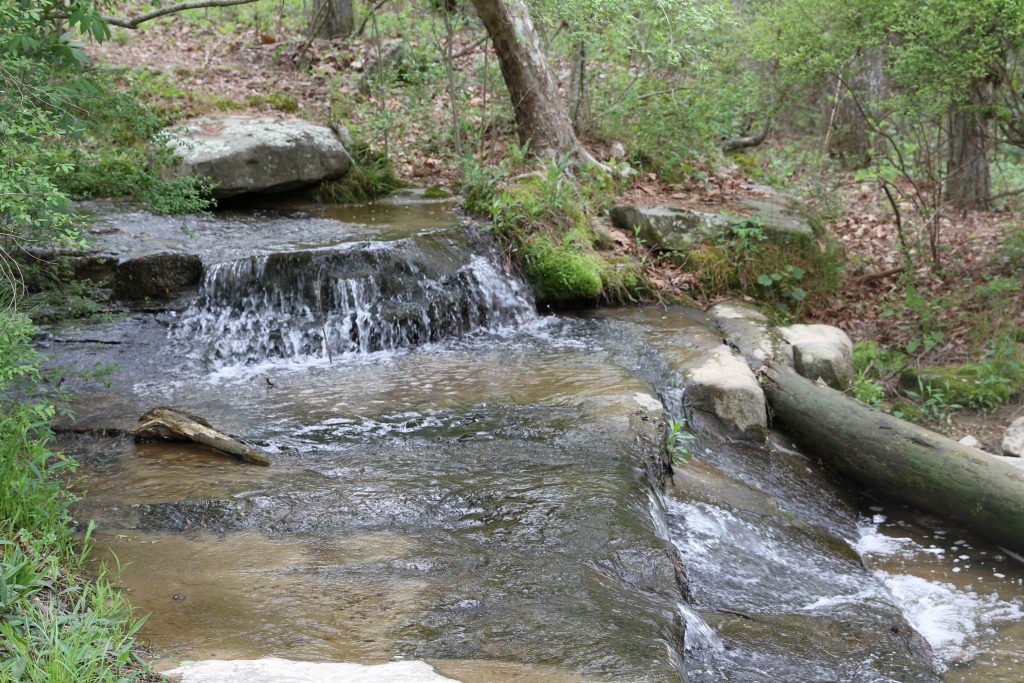 We also got to see some wildflowers.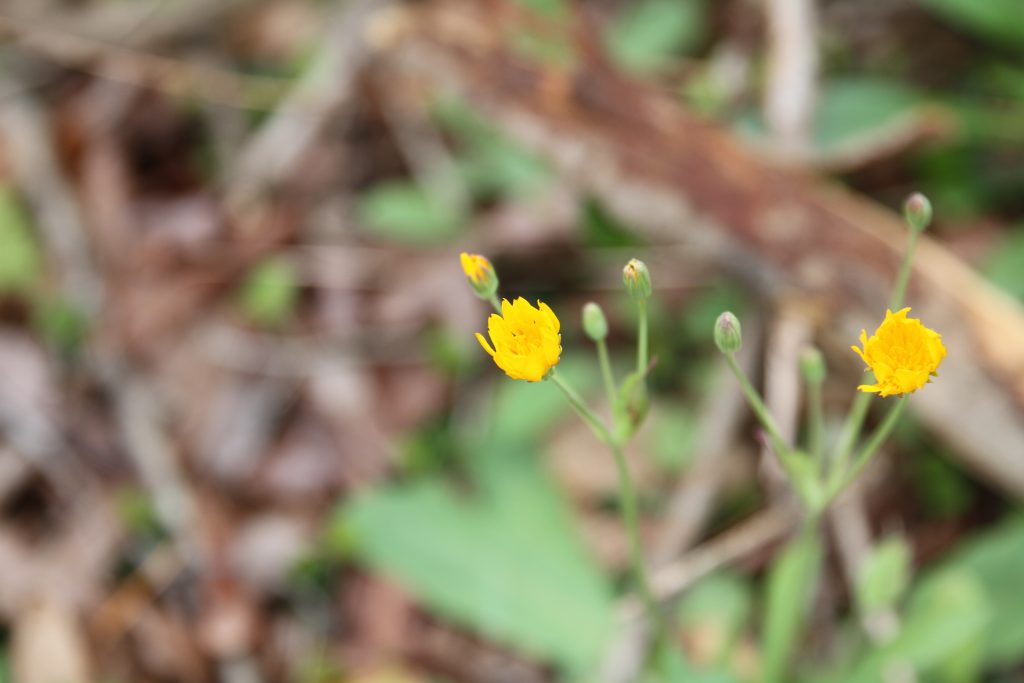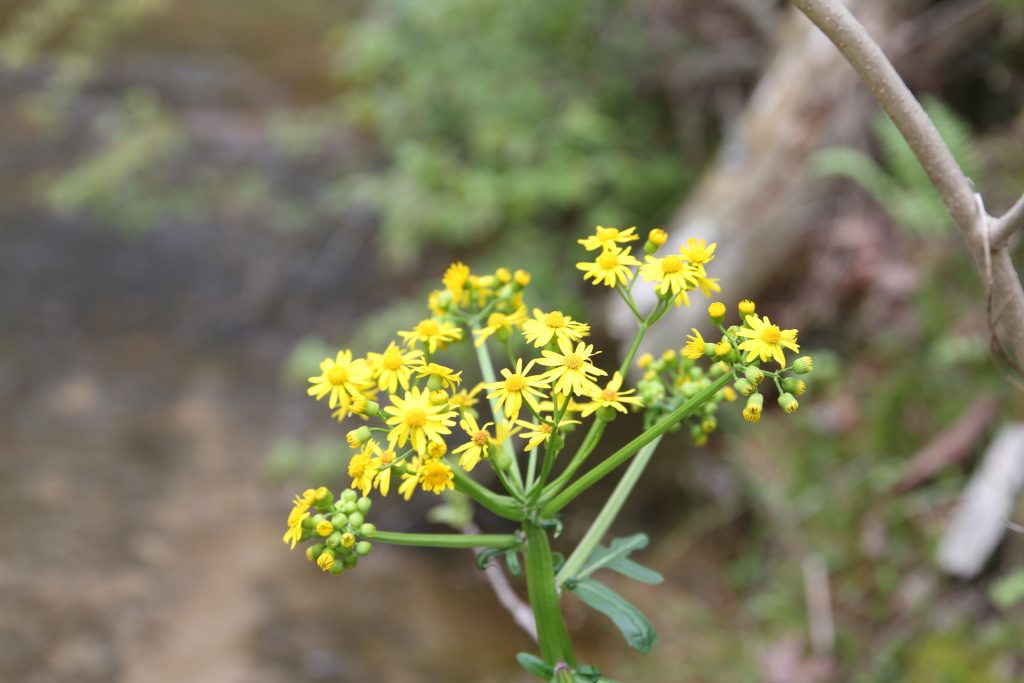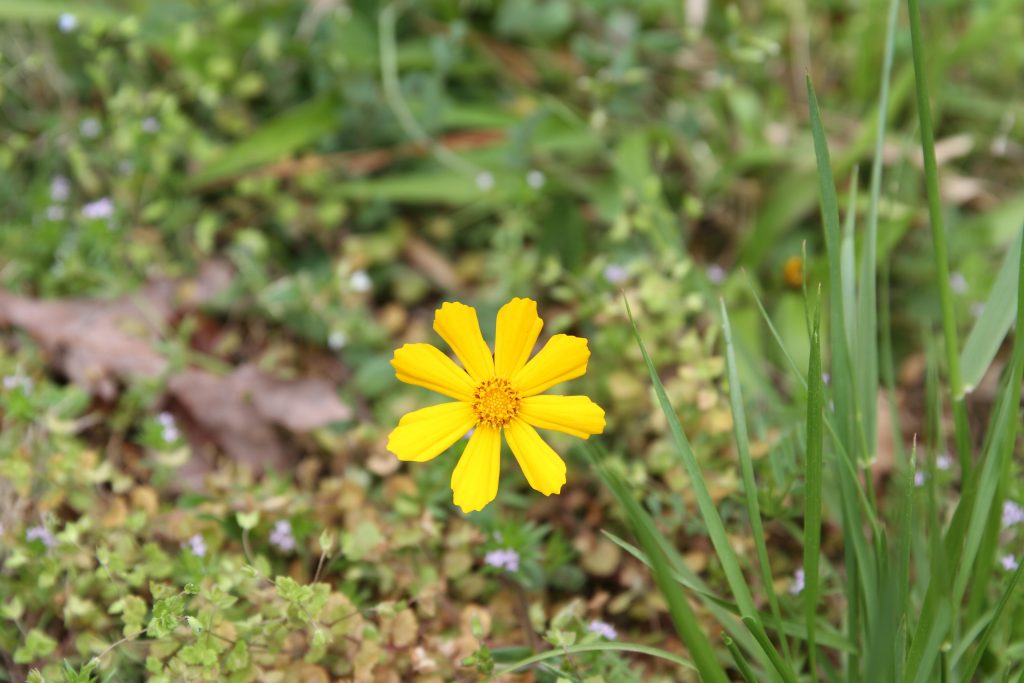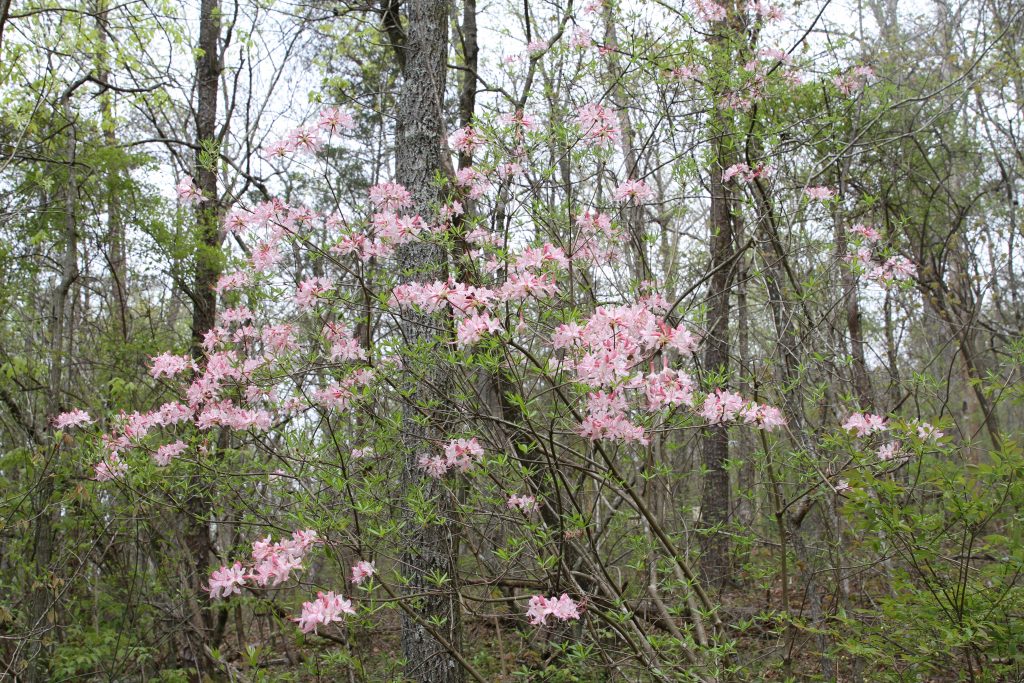 Friday morning we had to pack up and leave … we'll tell you about our next destination soon!