Post and Photos by Cynthia
So, as we last left you, we had returned to Nashville for a family celebration and then to take the final steps of downsizing, getting our house on the market and  the remaining preparations to make the Karavan ready for our full-time adventures.  We had set our goal "go day" as April 1, 2018, understanding that we had flexibility but needed to be serious about getting things done.
In fact, we tried so hard to meet our goal that by April 1 we had either sold or given away almost all of our things.  That is an experience in itself.  We had decided early on we would not keep a storage unit, so everything had to go.  Luckily, my Mom is in town and we could store our art work, photographs, some books from my Dad's collection and other precious types of things that we weren't going to part with but couldn't take.  She doesn't have a warehouse, and George, my stepdad, kept cringing whenever I brought something else over, so sentimentality was very limited.  Seriously though, they were very kind and gracious and we so appreciate their help.  The only piece of furniture that I wasn't willing to give away (in addition to some pieces that my Mom had given me and which I just gave back to her, and some I just sort of stuck her with) was our mattress, a king Tempur-Pedic, which we love.
So we were downsizing from this house into this truck (although it doesn't have the extra storage shell on it in this pic) and camper: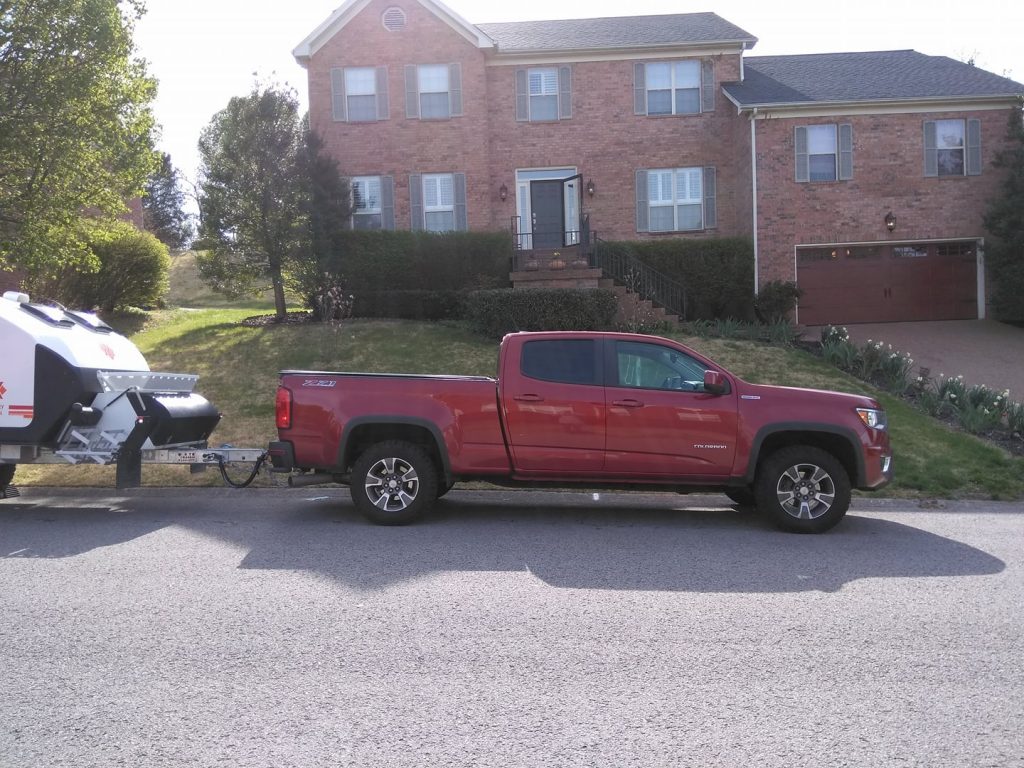 So, with my Mom willing to take some furniture back, and my lovely friend Tonya graciously accepting some as well (including our bed for whenever we do make it back to a sticks and bricks abode – thank you!),  we scheduled movers for April 2 (turns out April 1 was not only April Fool's day but Easter as well this year) and pretty much emptied our house of all furniture.  We had already had going-away dinners and parties with friends and family.  The house had two air mattresses, a couple of chairs and a tv that Bobby's sister would take when we actually left.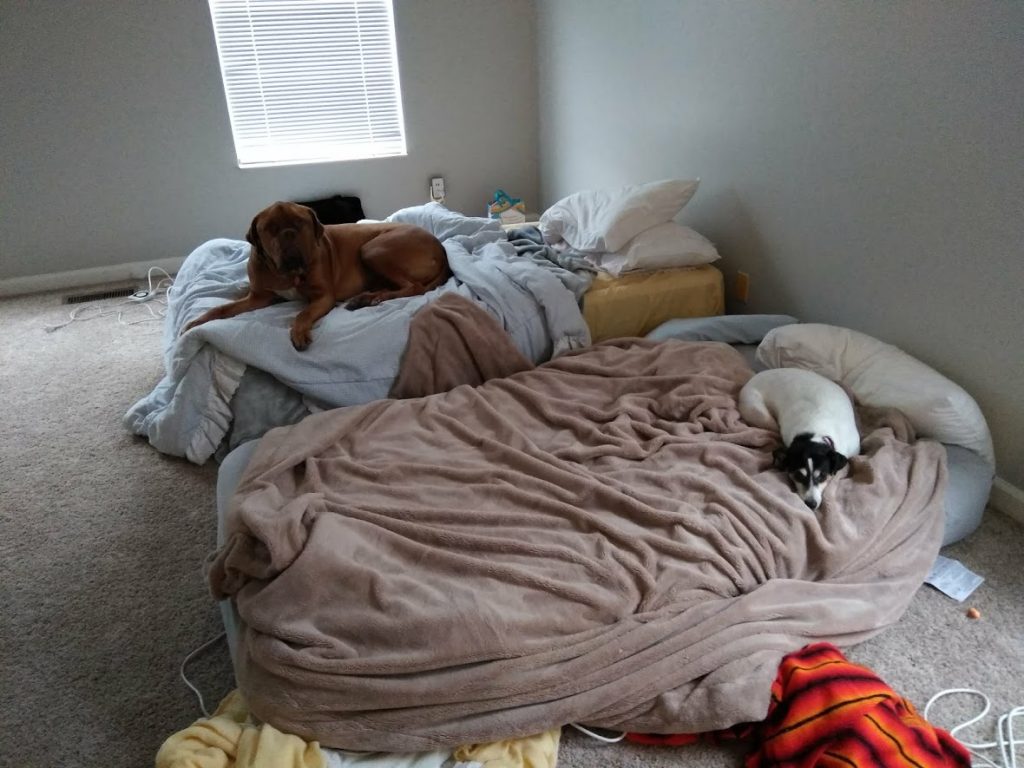 Which we had hoped to do right after the movers.  We took the Karavan out of the storage lot and parked it in front of our house thinking we'd only be there a few more days while we get some final work done on the truck and camper.  It was fine, we thought, we would knock it all out that first week of April and leave by the weekend.  "HA!" the Universe said.  My sister-in-law Samantha had it right saying the Universe was telling us we weren't ready to go, we were just a little dense about it.
First, we were scheduled to get the Leer Camper Shell and Decked pull-out drawers installed in the truck on Wednesday of that week.  This would allow us more storage room in the back of the truck.  We go to get that done and … the drawers for the bed of the truck were on back order.  Only we figure they weren't, they had ordered the wrong size, and the correct ones could be there Friday.  Ok, no problem, we can get all the truck work done on Friday.
On Thursday we were scheduled to have the Air Conditioning installed on the Karavan.  Coming from Australia, it was wired for the US but we needed to purchase the unit and have it installed in the US.  We go to our Camping World appointment hoping to have the AC unit we bought installed (along with another electrical gadget to help with the Anderson Plug charging issue) and the service manager tells us: (1) we are missing one of the AC components; (2) he doesn't see the wiring; (3) he doesn't think the unit will fit; and (4) he can't figure out the DC to DC Charger.  Yeah, don't get repair work done at Camping World.
So, we talk to Adam at Kimberley in Australia and figure out the wiring is just tucked into the speaker housing.  We order the control component of the AC. And we find an independent RV repairman who says he can get both these things installed.  That isn't even scheduled until Friday April 13, which should tell you all you need to know.  But, in a nice twist of fate, the part has come in and they have an opening on Wednesday so they come to the house and install it.  We are hopeful the AC will do ok, but the DC charger definitely did not, and was drawing down the lithium batteries in the camper.  We asked them to put a switch on so we could turn it off when not charging from the truck, and were told they couldn't do it and just charge the Karavan.  Completely not the point of charger.  So, Bobby just disconnects the thing, thankfully without electrocuting himself, and we'll save that for another day.
We also discovered some water leaking into the Karavan from one of the speaker wells.  We talk to Adam again and he tells us there were only two places we could get water in there and to get this sealant and put it around one of the solar panels.  We get the sealant but it's still raining like crazy, my mattress is wet despite our efforts to avoid that, and I'm not happy.
But with the AC and the truck storage taken care of (we did get most everything on the camper top done on Friday, but they had forgotten to do the brake controller as well, so we had to get that done the following Monday), we get our reduced (but still too much) belongings packed in somehow and we are just about ready to go.  We've checked more things off checklists than I ever want to do again.  We have vet records, rabies certifications (for the dogs, not us), tools, a generator, coffee (for me), a dutch oven, a camper stove, and all sorts of gadgets I don't even know what they do.  We've had the house cleaned, it's on the market, there's now been a showing and an open house, we were all ready to go this morning!!!
Except in the middle of the night last night, I get sick.  Maybe a stomach bug?  Anyway, no way I want to be sick going into our first night at a campground.  So, we'll see how I feel.  But go date is now probably tomorrow.  And we apologize to our friends, families, neighbors who we have told we are going pretty much ever day since April 1.  But it's going to be soon, really, like maybe in June…