Post and Photos by Bobby
Before leaving Asheville, everyone got some much needed rest in the hotel room. Cynthia wasn't the only one who enjoyed the hotel bed.
We decided to leave Asheville early and head to Chimney Rock, which is less than an hour from the city. We walked around the small, picturesque town and had a good view of Chimney Rock.
We then went to the Chimney Rock Gem Mine and tried our luck – Cynthia found this beautiful amethyst.
Our campground was small and it wasn't the cleanest, but it was right on the Rocky Broad River.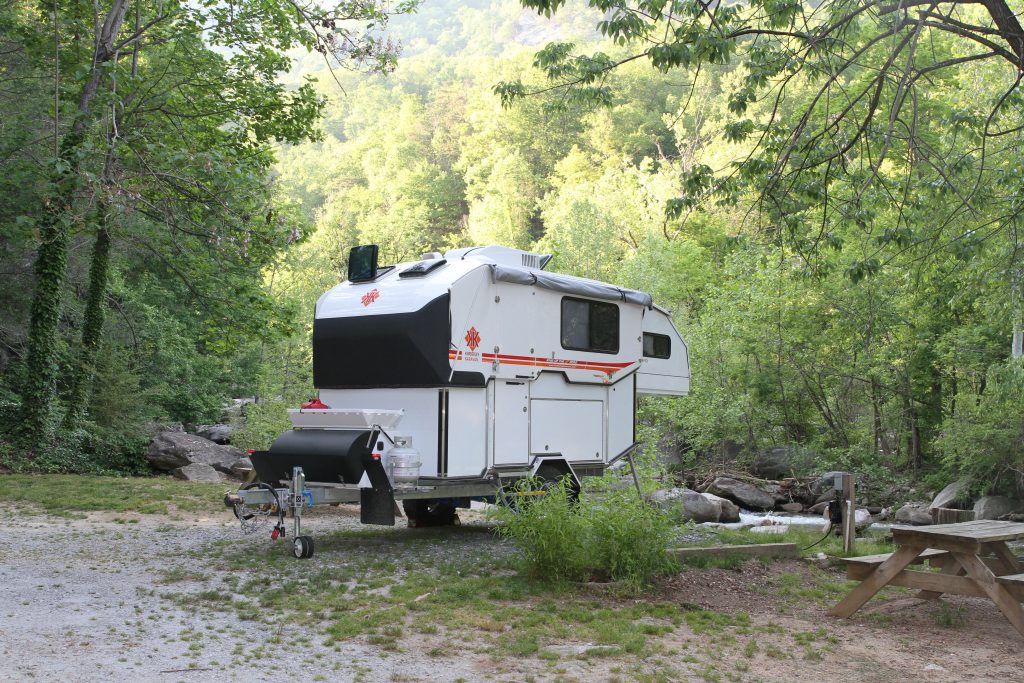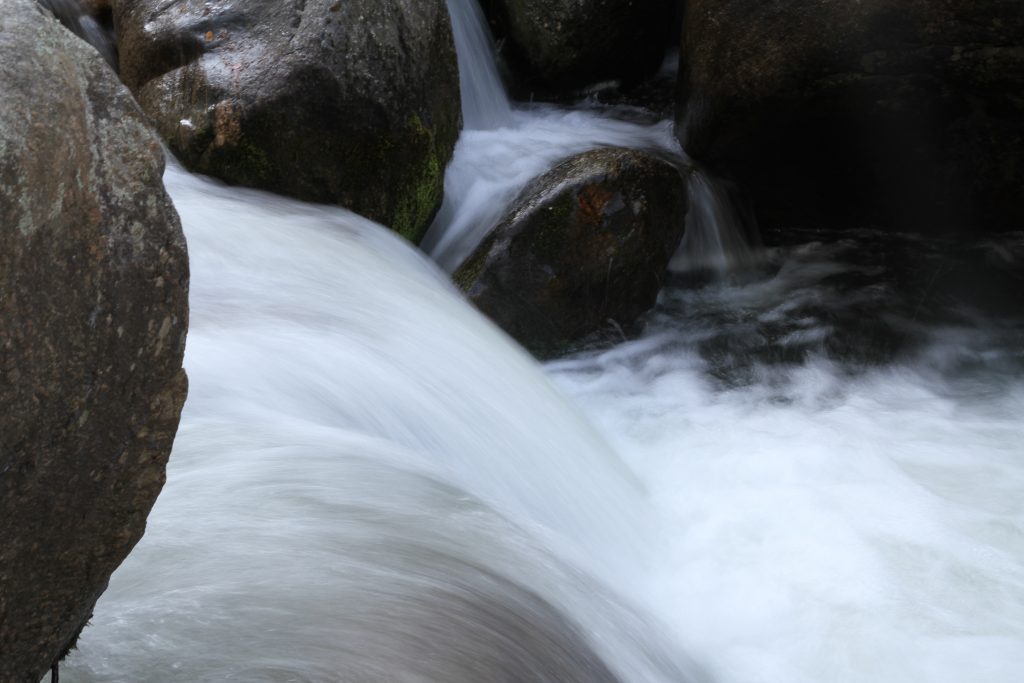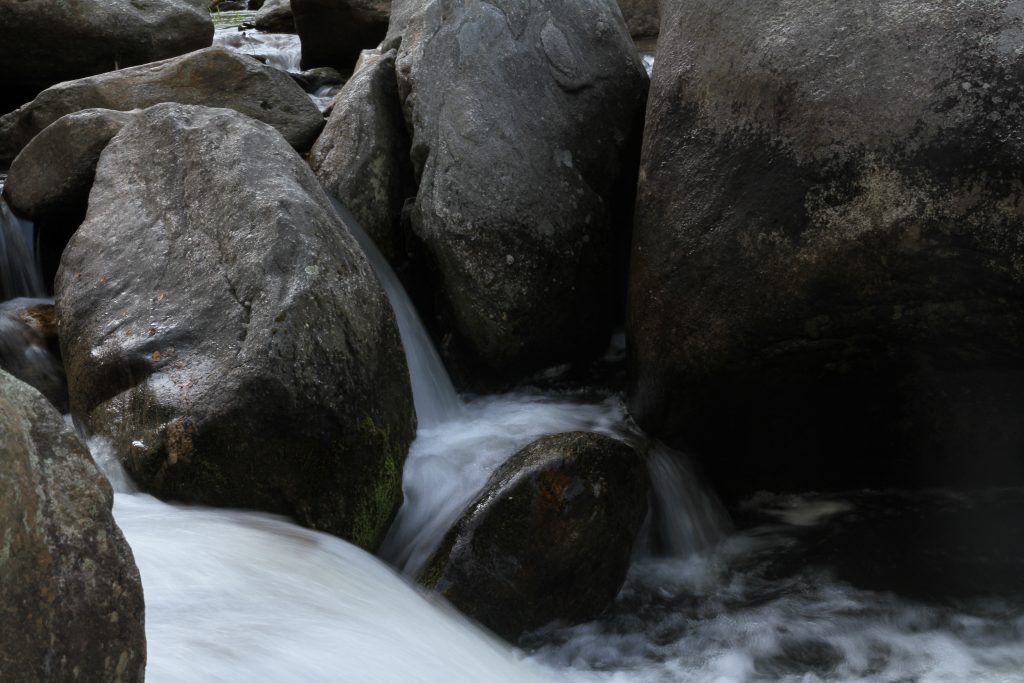 The following day (Thursday) we wanted to climb Chimney Rock, so we got up fairly early and headed to the Park. The climb to the top only takes 20-30 minutes, but there are a few steps.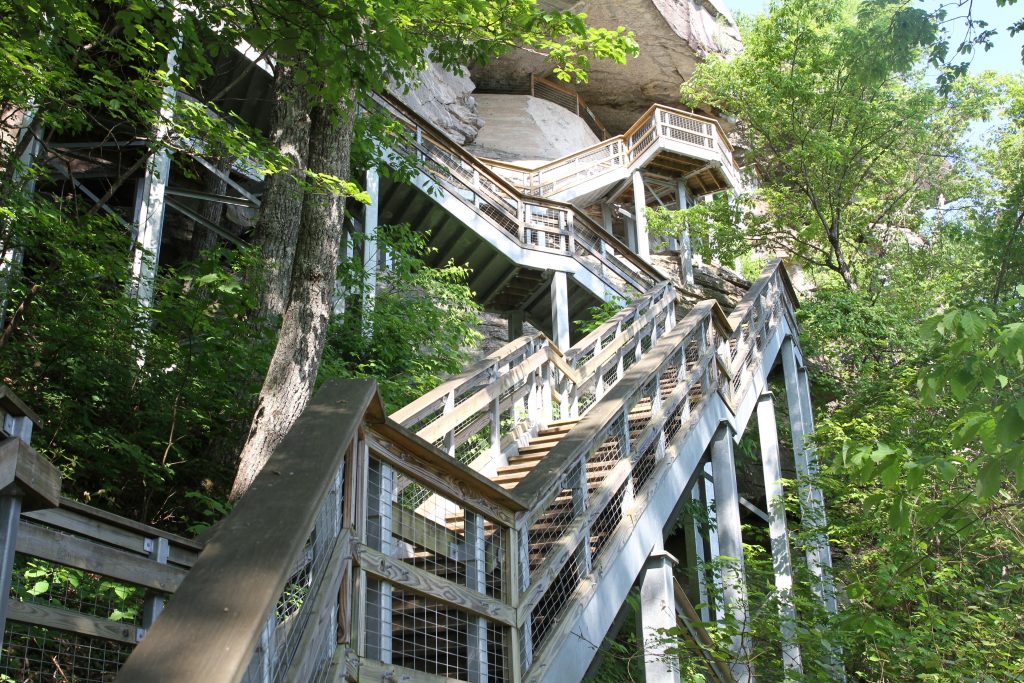 These beautiful flowers lined the steps most of the way up.
Cynthia took some coaxing to step out onto a few of the overlooks.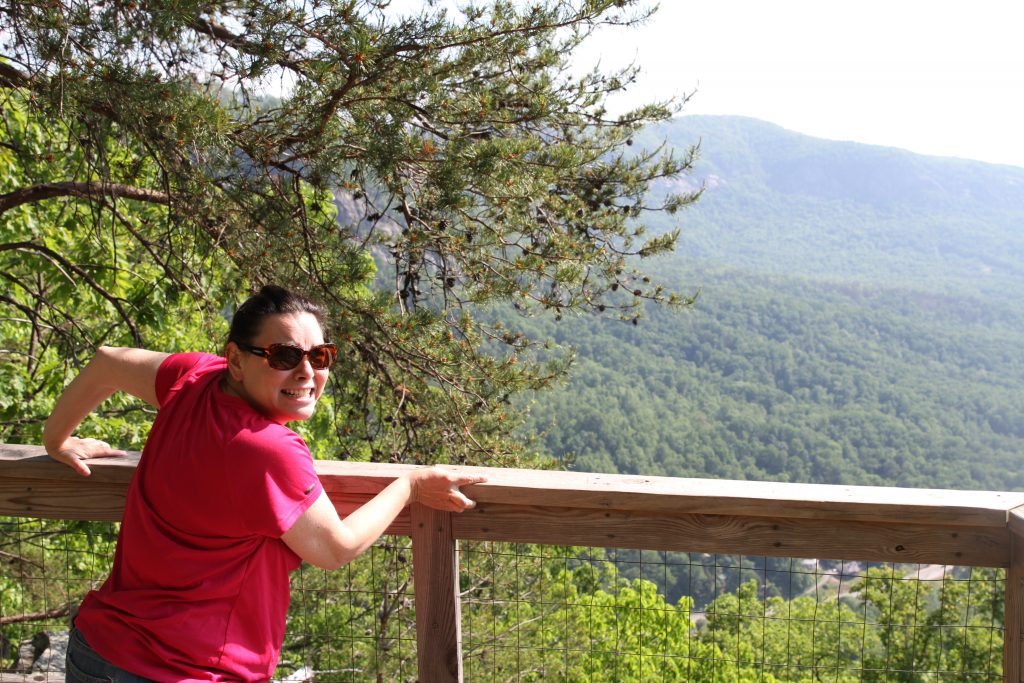 Finally we made it to the top.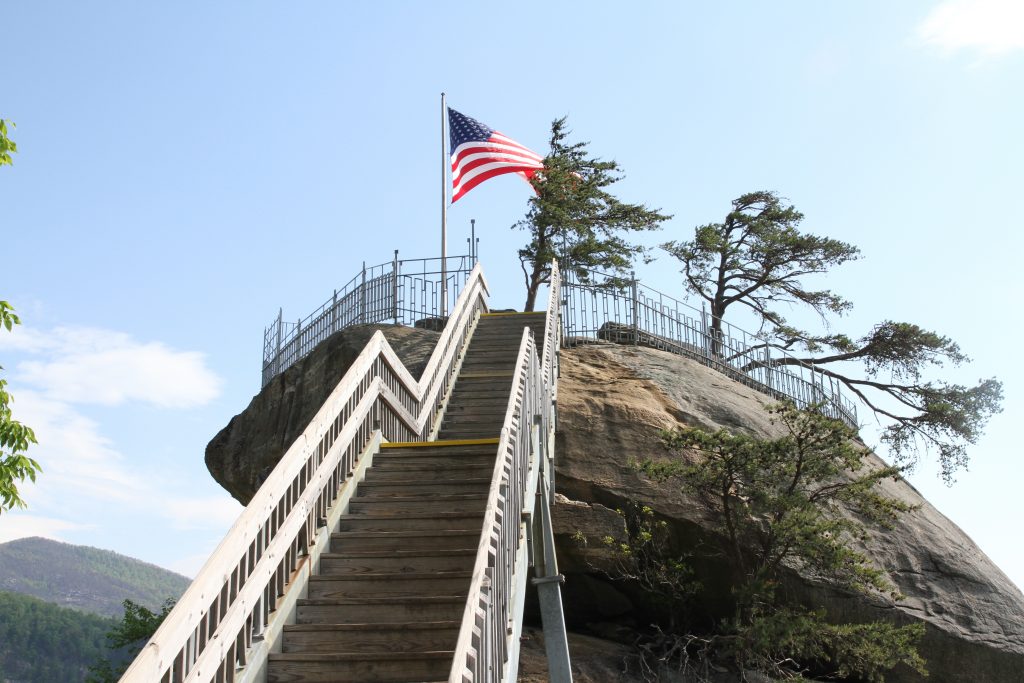 The view was amazing.
We took a different way down that led us through the "Subway."
Cynthia had a fun time once all the climbing was done.
After we got back to the campground, we took the pups down tot he river and let them explore the water.  Banner loves walking in the cold water; Penelope not so much.  Penelope was very brave though, and jumped into the water trying to chase something – and immediately regretted her decision and tried to scramble onto a rock.  I had to pick her up before she panicked.
That evening we chatted a bit with our neighbors, Tim and Diane. And spotted this Momma Groundhog that was looking around for food in the campground. Unfortunately some campers a few spots over were feeding her.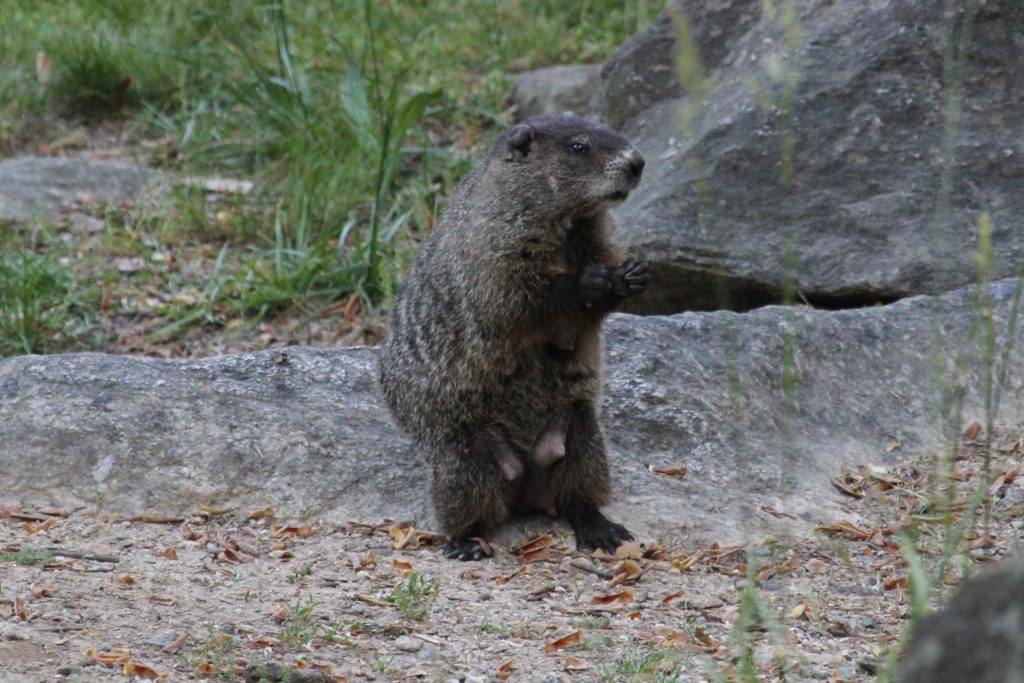 Friday morning we packed up and, with no destination in mind, we headed east. We had an interesting drive. We spotted this long-abandoned house that must have looked amazing in its prime.
We crossed the Peedee River.
We then headed into the Uwharrie National Forest, where Cynthia (who has turned into an excellent snake spotter!) saw a snake crossing the road. I was able to get out of the truck and head it off before it disappeared and got these snaps of an Eastern Hognose snake – it's non-venomous, but flattens its head and hisses when threatened, in a great imitation of a cobra.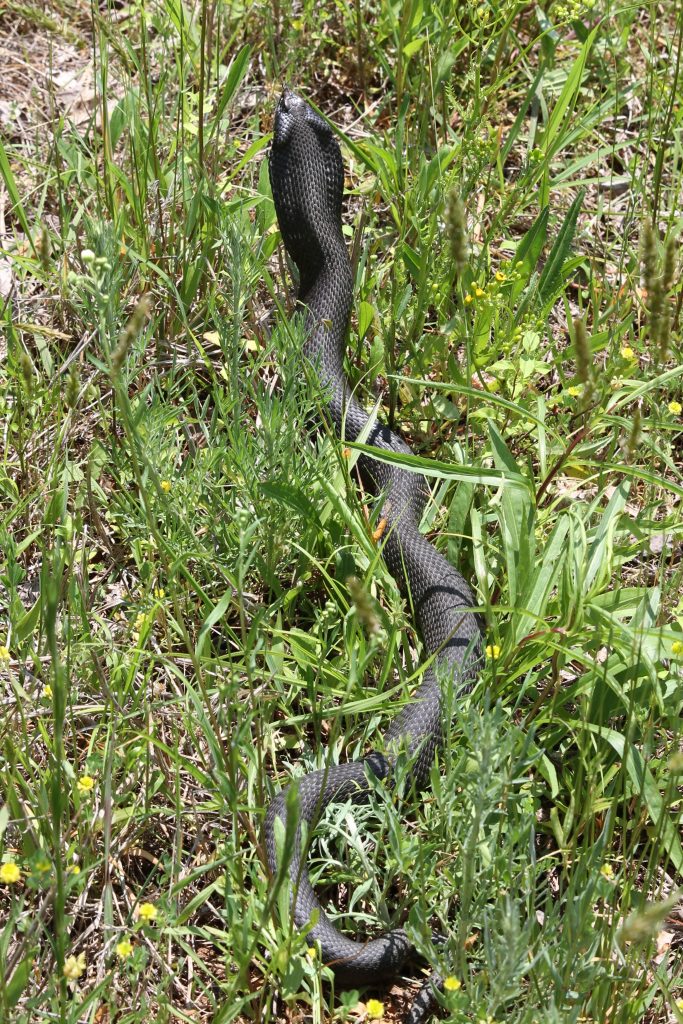 We stopped at Pisgah Covered Bridge that was built in 1911 for $40. It is one of the only two covered bridges in North Carolina.
After leaving the Forest, we came across a little town called Whynot, and then a town called Erect.
A few days before we crossed through Bat Cave. Who knew North Carolina had so many weirdly-named towns.
My attempts the day before to locate our next campground had not been successful, so once we had a signal I started making calls. Finally I found a spot at Jordan Lake State Park, Poplar Point. The Park has many spots for both RVs and Tents and with plenty of room between sites. Unfortunately the mayflies were quite bad, so we spent most of our time just relaxing in the camper. I did get a nice photo of a Luna Moth.
We are now heading out to the Outer Banks in NC and our cell service and other wifi is going to be spotty to non-existent.  The next post may have a bit of a delay, but we'll get it out there as soon as we can.