Post by Cynthia, Pictures by Bobby
After we left the Gila Hot Springs RV Park in New Mexico, we drove to Organ Mountain National Recreation Area (learn more here), where we had a picnic lunch (in the Aguirre Campground area) overlooking the "Rabbit Ears" of the Organ Mountains in the park.  The road to the picnic spot was curvy and not too bad in comparison to some of our previous treks, although it had a warning for trailers over 23 feet.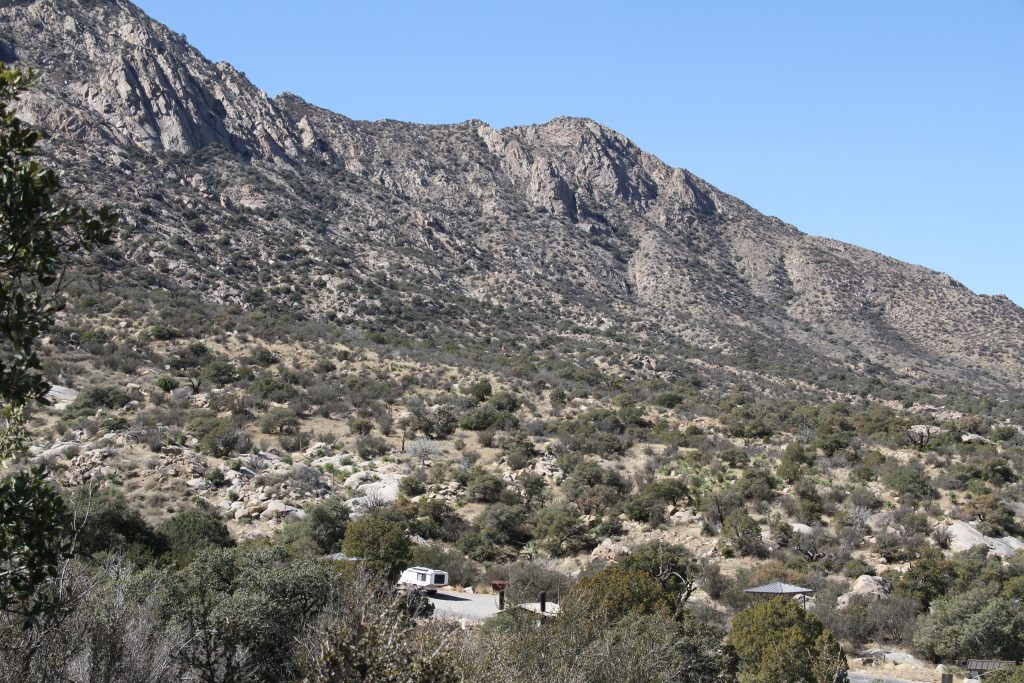 At the campgrounds we saw a Class A Motorhome that seemed to be navigating fine despite its length.  The driver stopped and immediately asked us if our camper was "that one from Australia?" Lots of folks who check out Expedition Portal and other overland or camping forums have read about the Karavan, but few have seen them in real life.  Our Class A friend was very excited to see one and had lots of questions – as do many other RVers who we meet.
After lunch, we took a short hike to enjoy the scenery, even though the warning sign had me a bit concerned.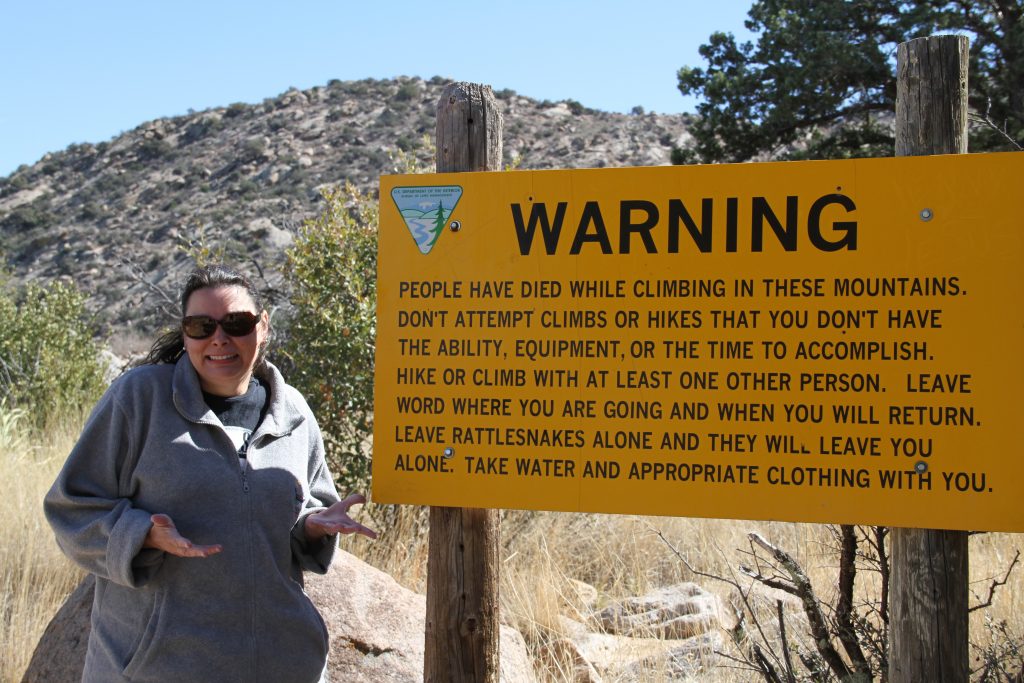 Bobby got some great shots of the Organ Mountains.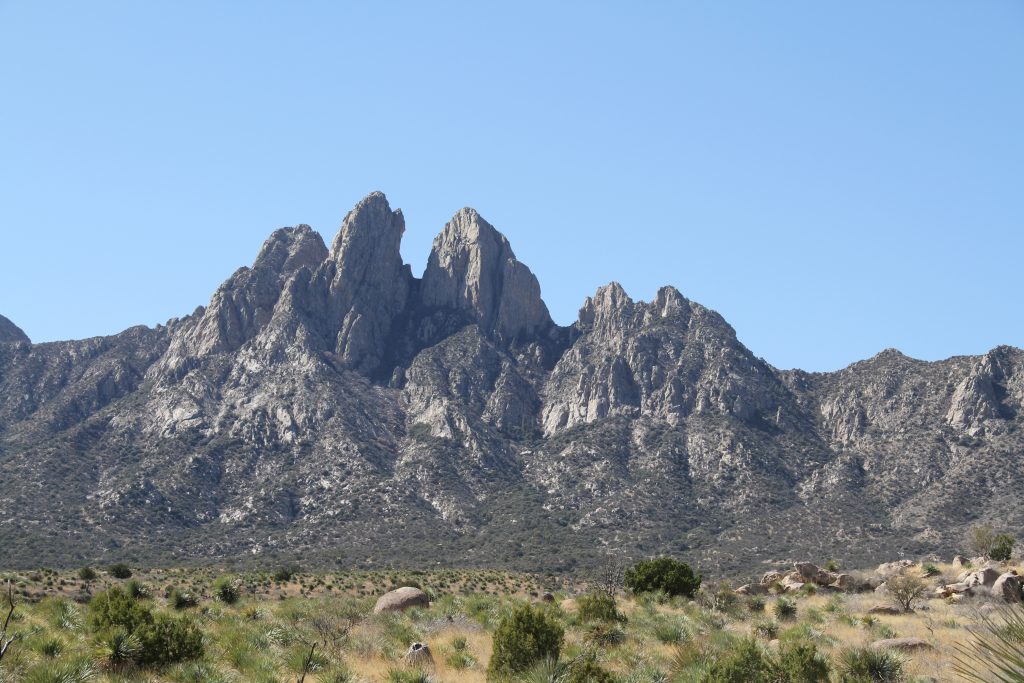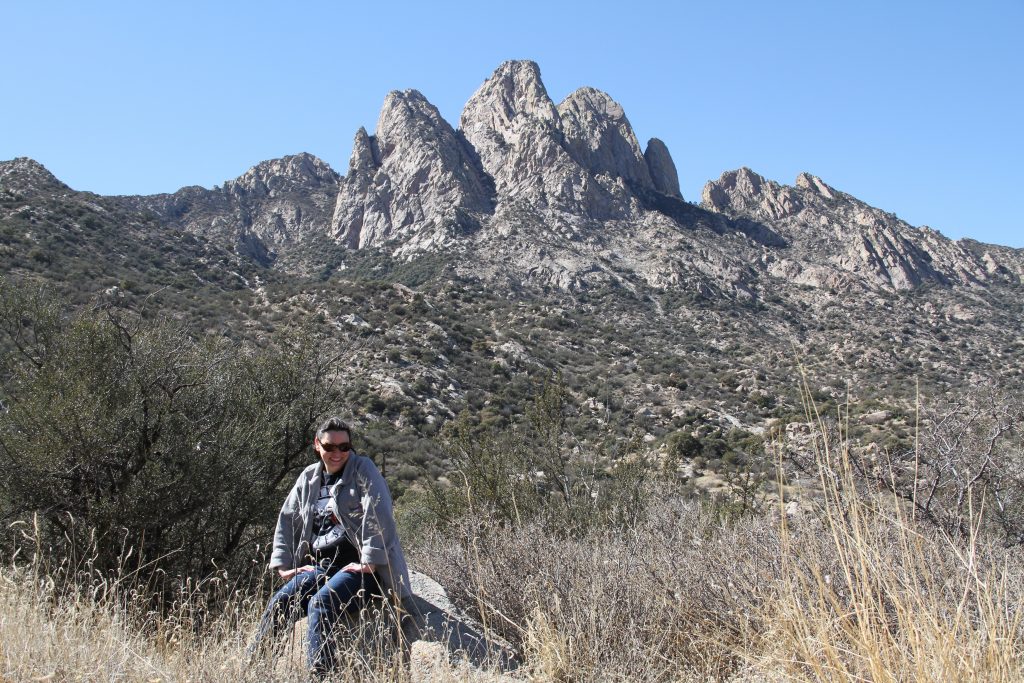 We even saw the Keebler Elf Tree – where I was unhappy to discover absolutely no cookies.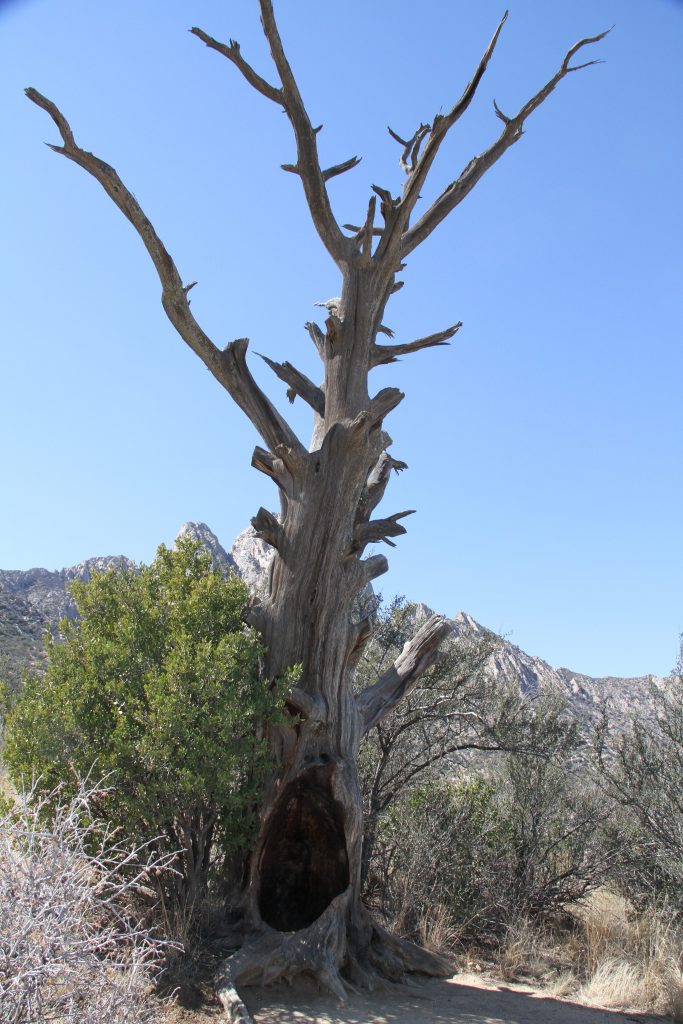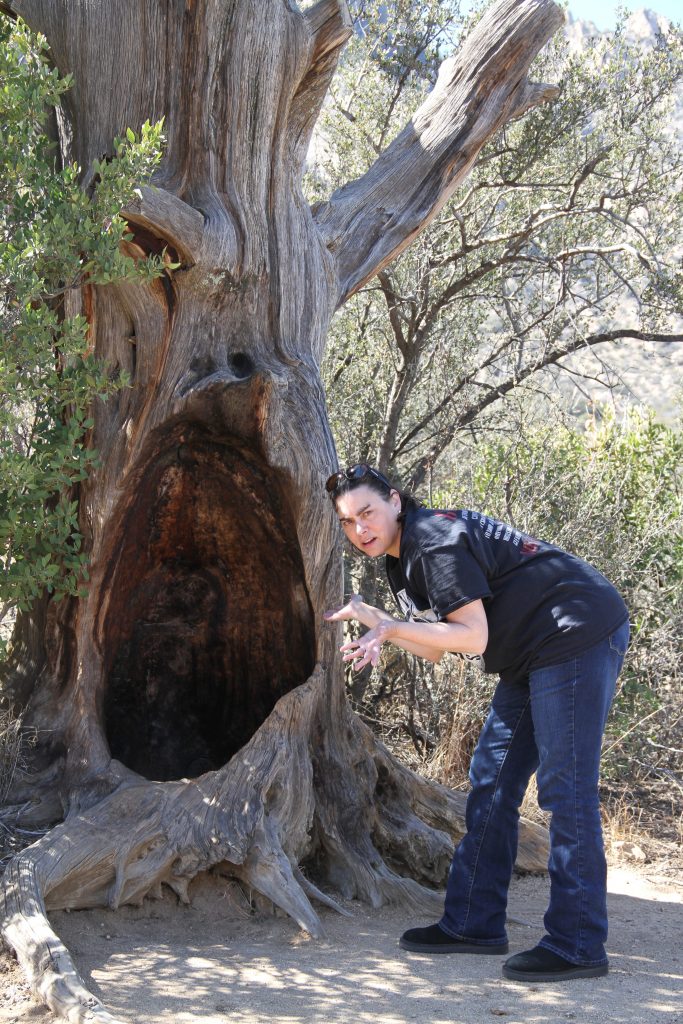 After touring the Organ Mountains, we continued east and stayed the night at the Holloman Air Force Base FamCamp.  FamCamps are the RV Parks located on military bases, which we can stay at by virtue of Bobby's retirement from the military.  They are generally very economical, and also give us a chance to shop at the base exchange and commissary.
The next morning (Saturday) we left the Karavan at Holloman and went to White Sands National Monument, which is unlike anything I've ever seen.  Generally, the desert we've been seeing in Arizona and New Mexico has been rocky, occasionally sandy, but here there suddenly appeared a giant area of white sand dunes like we'd stumbled onto the set of Lawrence of Arabia.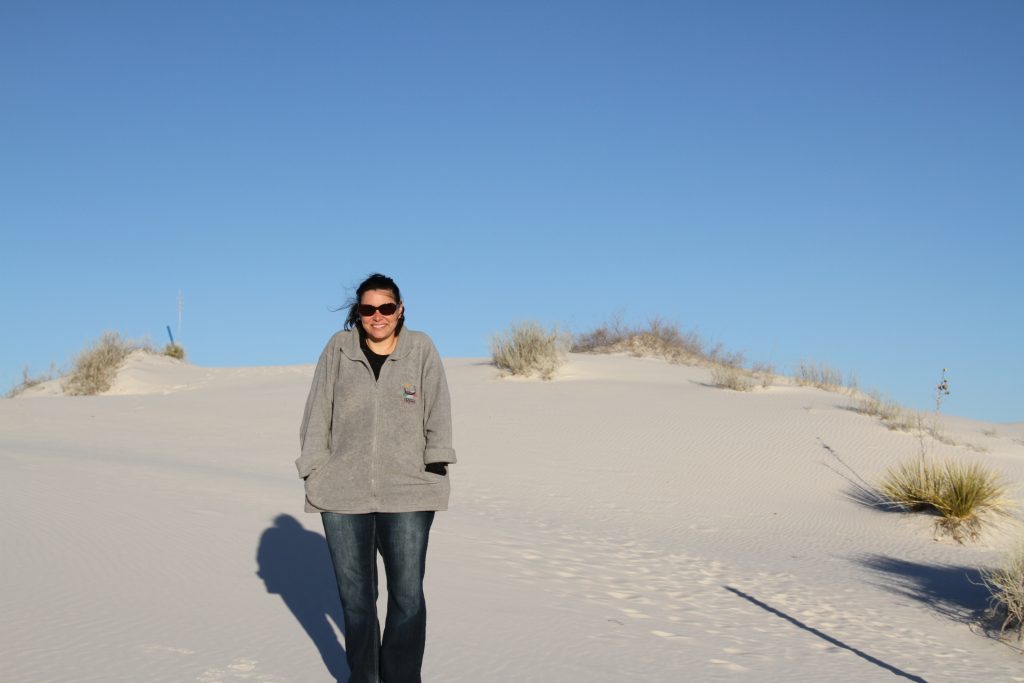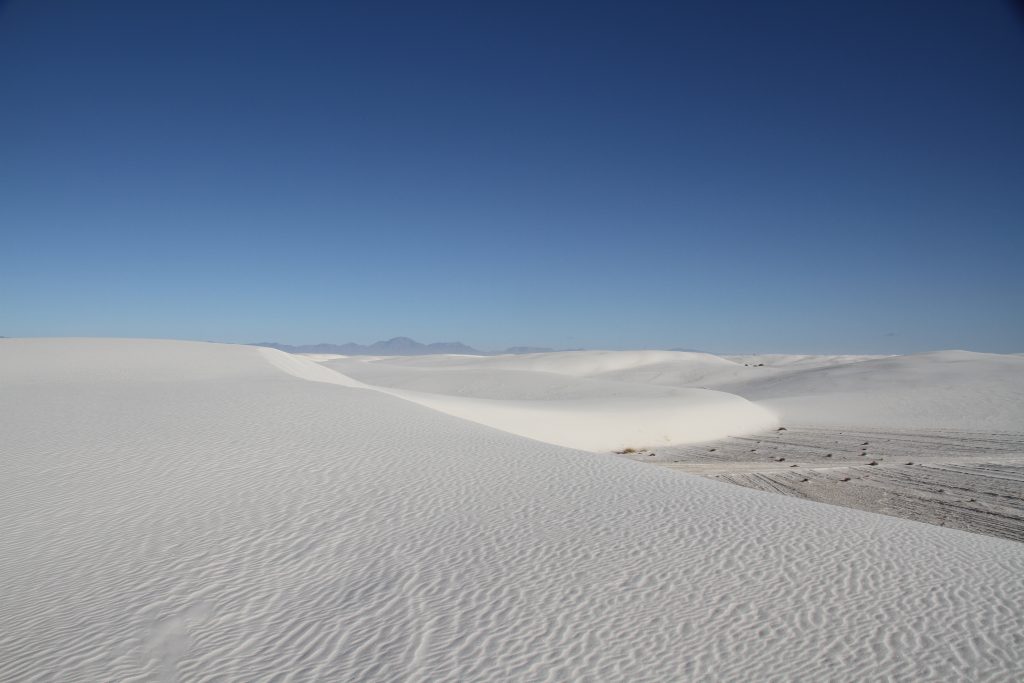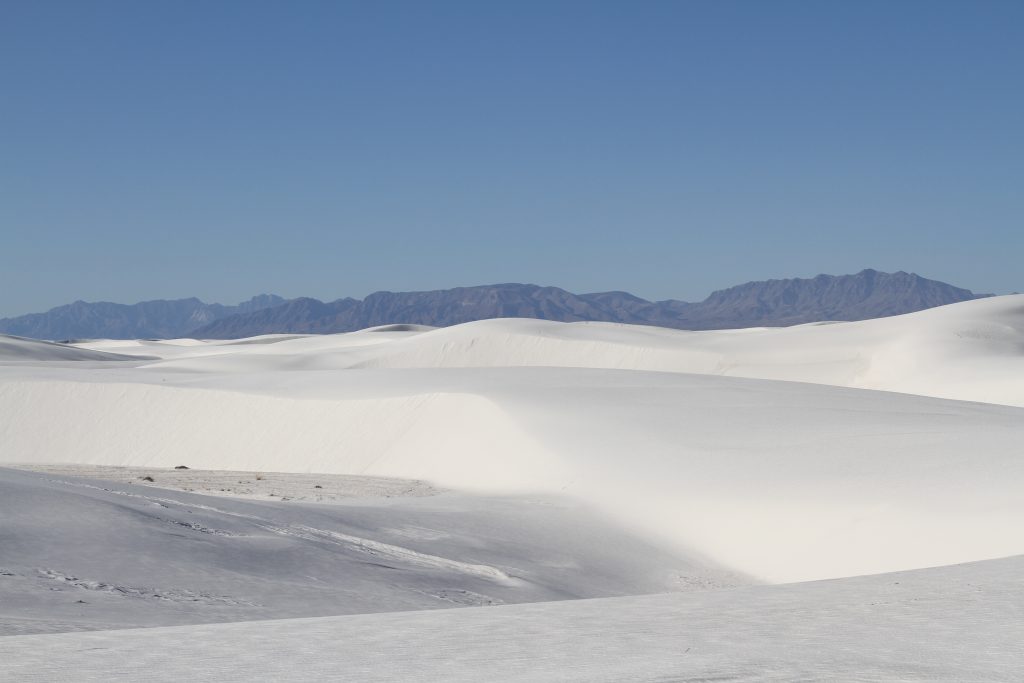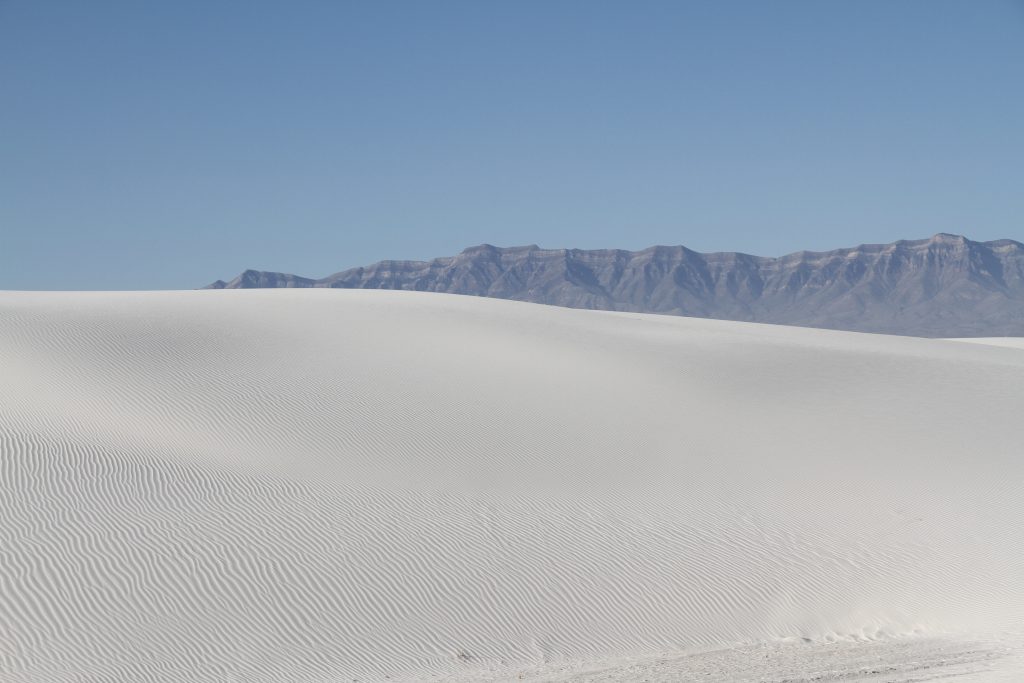 There was this friendly little spider I spotted that we think could either be a burrowing wolf spider or a funnel-web spider.  By "friendly," I mean he didn't move at all and therefore I didn't view him as a threat.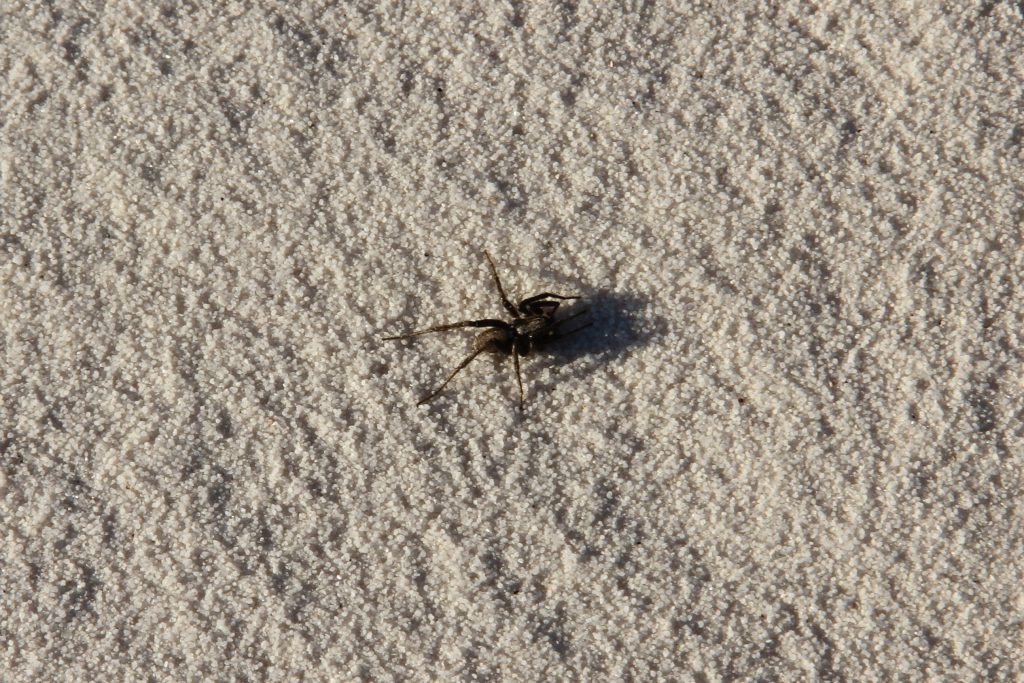 And this tenacious tree hanging out in the desert with crazy roots.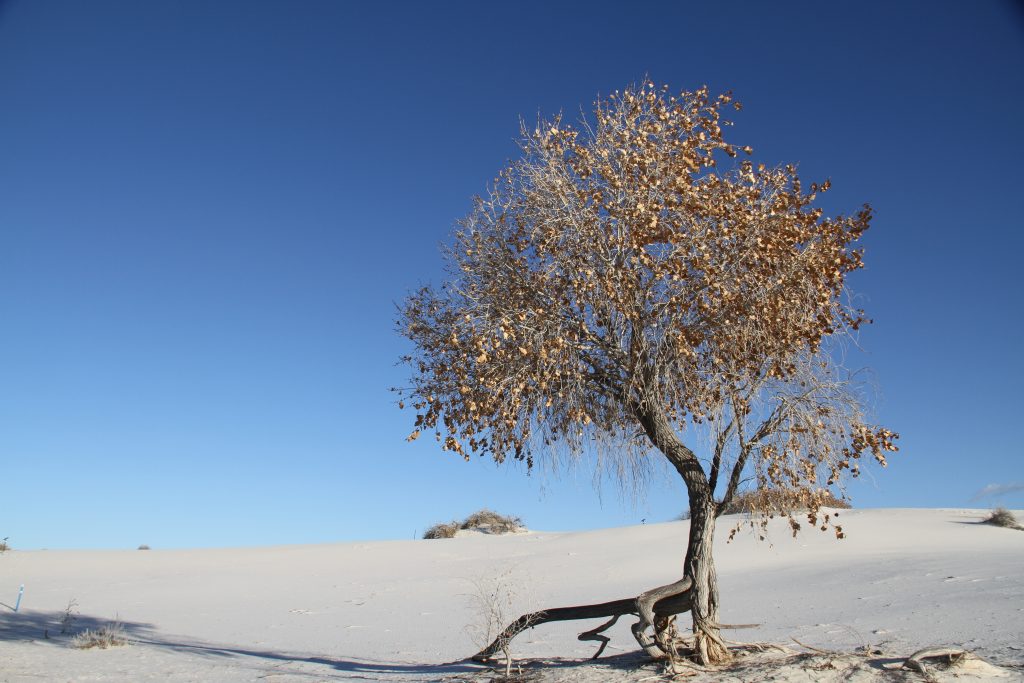 Bobby takes amazing photos but it's still hard to capture the breathtaking views we saw. It probably didn't help that his camera lens began refusing to focus.  He had dropped the camera when we were in Belize celebrating our second anniversary, and it's limped along since then.  It seemed, however, that its time had come.
Accordingly, after White Sands we rerouted to El Paso in hopes of finding a camera or electronics shop that might carry the lens he wanted.  No such luck.  Seriously, there is not one camera shop in El Paso.  We wound up ordering a lens to be delivered on Tuesday to a hotel that we have now booked.
The trip through El Paso wasn't entirely a waste, at least not on the bizarreness factor.  Heading out of town on our way towards Carlsbad, NM, we saw some strange sights.  First was a XXX Adult DRIVE-IN movie theater.  I was astonished such a thing existed (turns out the screens are facing away from any accidental viewings by people passing by), but amused that right next to it was a relatively newly built church.  We then passed a truck and camper that was flying Confederate Flags and had writing stating, "Secede" and proclaimed that it was the "National Anti-Sodomy Campaign."  I could only find this reddit thread on this craziness – I guess that guy should have been camped outside the drive-in.  But, if he personally wants to go ahead and secede, I say good riddance.
We made it to Whites City, NM, which had a population of 7 as of the 2010 census.  I'm guessing all 7 are employees of the three business that operate here – the Grocery/Gift Shop/RV Park, the restaurant and the gas station. We are staying here two nights so we can tour Carlsbad Caverns on Sunday.