So, after our night in Barstow, we headed down to LA via Angeles National Forest for a bit until we came to the end of the line – road closed. We got a few nice views before we had to turn around: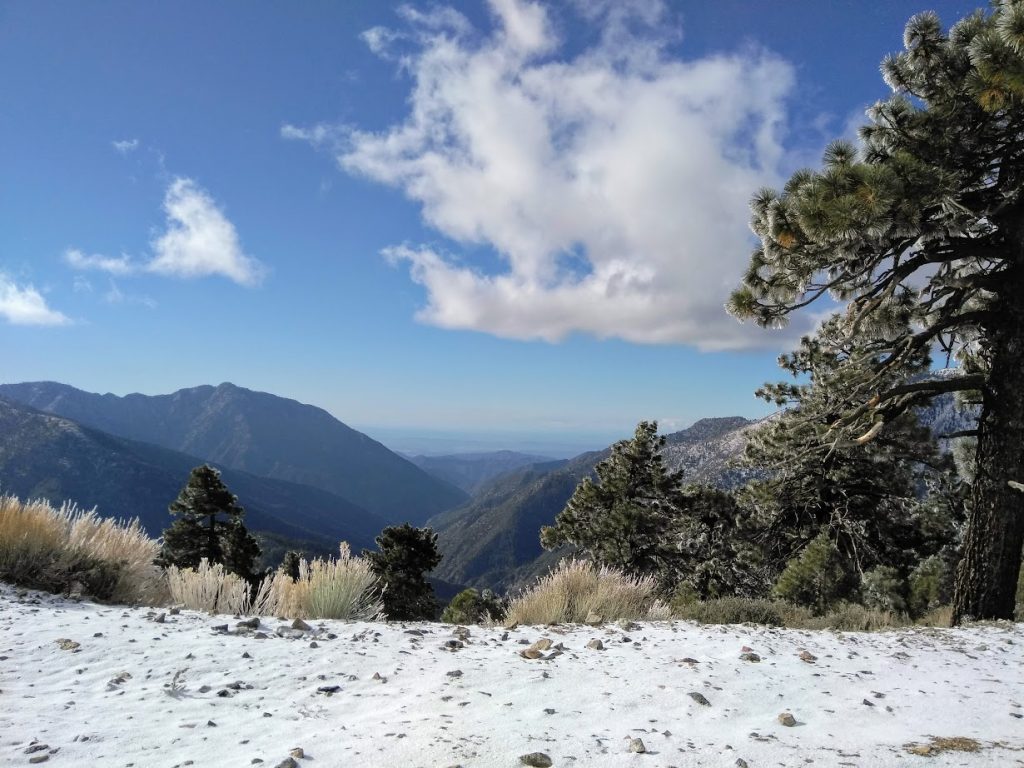 In LA, we got to visit with Cristin Z, Cynthia's law school roomie, and her dog, Zolie. Cristin has been wonderfully supportive ever since learning of our plan, and to top it off, she was awesome enough to introduce us to a delicious Japanese noodle bar for lunch. We then drove down to Long Beach and had a great dinner at a make-your-own Poke bowl place. Nom, nom, nom. Not bad for our last night as non-camper dwellers!
Wednesday – Valentine's Day – was the big day. Our Kimberley Karavan Handoff! Here we are: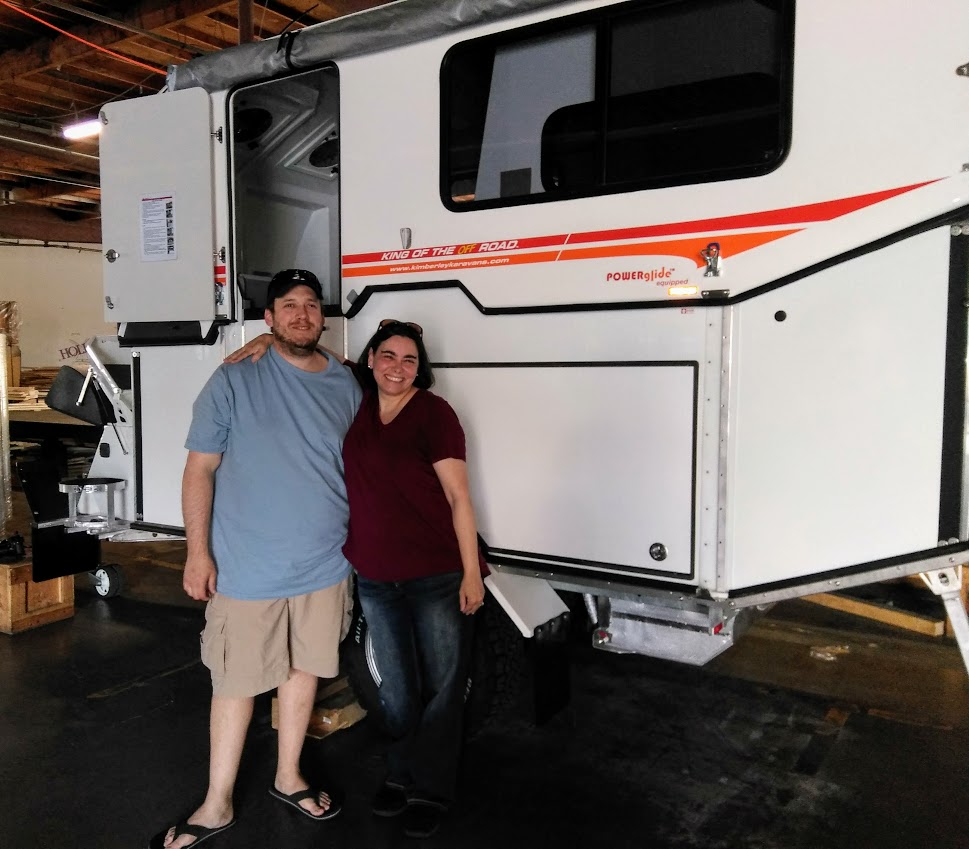 Here she is all popped up and slid out: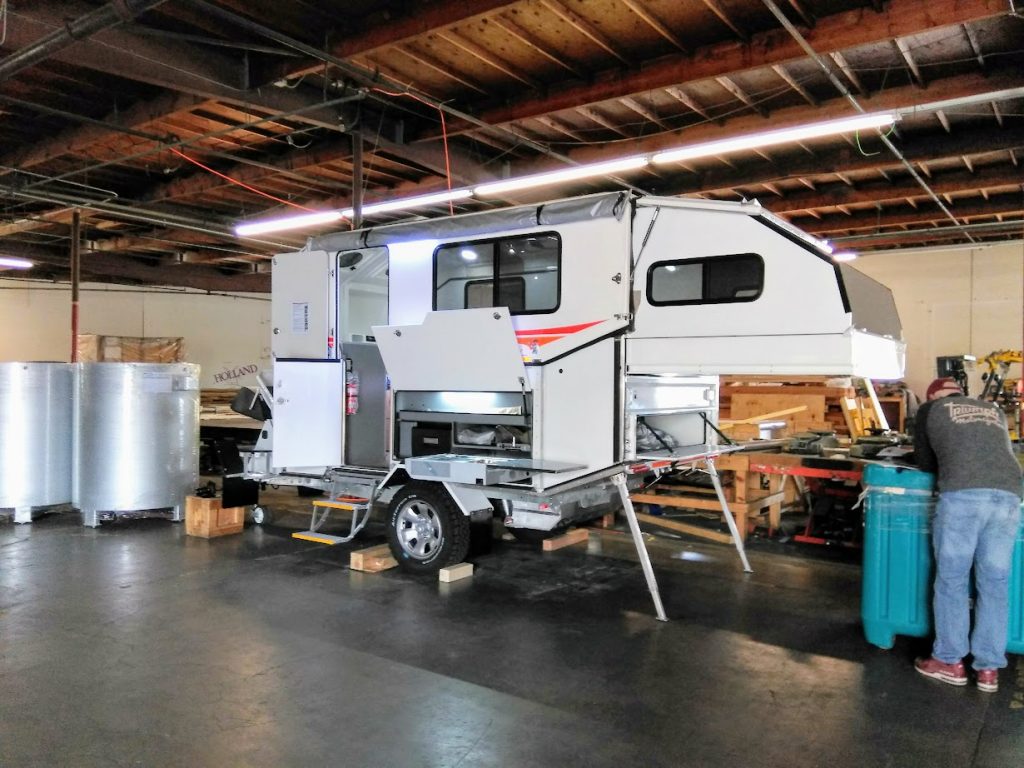 And Cristin even came down to check her out too!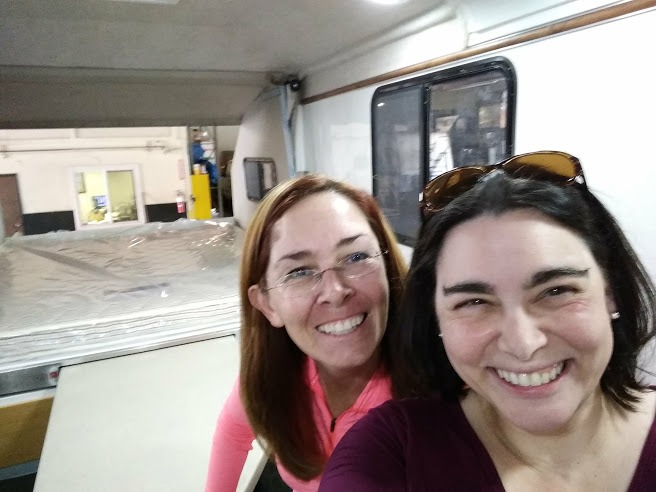 But Wednesday was a very long day. KK's US representatives, Todd and Mehow, spent the day helping us and sharing our excitement over the camper. There is much to learn about this Australian beauty, and many last-minute tweaks. More on that and the challenges importing a camper like this can hold on another day. Suffice it to say that the best laid plans …
Anyway, our plan for after the handoff was to stay at campsite in Riverside, CA, about an hour east of LA in good traffic, and we wanted to get there early enough to set up in the light. We were a bit naïve on that point. We finished up in LA after 5. And with traffic, getting to the campsite (on March Air Reserve Base) was a 2-hour drive. In LA rush hour. My first time towing anything. In the dark.
But – we made it! And it was fine. Not an experience I'd like to repeat, but we did it. The two hour drive turned into 3 hours because the main gate to the March Base was under construction and Google Maps kept sending us down dead ends (resulting in me getting a chance to back up and turn around with the camper a few times, much earlier than I had planned on practicing that), but we got here. And set it up. And went to sleep pretty soundly.
The next morning, we had a wonderful visit with family friends in the area and then set to work. We put new tires (BFG KO2) on the truck to match the camper, ran supply errands and tried to figure things out. We decided to stay another night at the campsite just to make sure we've got our act together, but then off for a bit of adventuring. And then to meet up with a fellow US Karavan owner who has graciously offered to give us lots of advice and tips, which we will gratefully drink in!
More soon. I'd tell you our route, but it's Bobby's closely-held secret – I get surprised with our next adventure every day. But if you're curious ahead of time, ask him – it's only a secret to me.