First off, I have to say a very heartfelt thank you to everyone who has sent well-wishes our way since we've put the word out about our adventures. All the offers of help, places to stay and words of encouragement are very much appreciated.
We also had such a warm welcome from fellow Kimberley Kamper owners, and have even been in touch with some of the folks who own KKs in the United States. This is significant because the KK is imported from Australia, and we are getting only the fifth Karavan imported to the US, so right now it's a very small community stateside. That may change as KK is increasing their US operations, so I am hopeful the community will increase over time.
As for an update on our first two days on the road, this is not so much wandering as straight, boring driving heading west on I-40. And parts of it were boring (my apologies to the middle of Arkansas, but it's not the most scenic drive).  Plus it rained all the first day, there were multiple semis on their sides and we had several delays due to accidents.
We then headed through Oklahoma – I got to point out all the cows, which reminded me of a meme I had just posted on Facebook: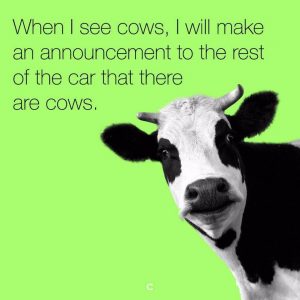 Also, a lot of cotton in Oklahoma.  And once it got dark any precipitation left started to freeze, but it had pretty much cleared up and then we stopped for the night.
The next day we finished up Oklahoma and then went through the panhandle of Texas and into New Mexico.  While I love seeing all the different terrain, we then started seeing some lovely vistas. We didn't stop for any sightseeing during this time, and no pics to share, but I did see a few things of note. I saw a billboard advertising beekeeping supplies and another for a decoy outlet, both things I have never given one thought for at any point in my life. We saw a warning sign in Oklahoma: "Hitchhikers May Be Escaping Inmates," which is a good public service message, I guess. And then there was the spray-painted sign on a trailer facing the interstate, "Joan Jett 4 Prez."
So, not that much to report on driving through 4 states in two days, but tomorrow we will be checking out the Petrified Forest and we will have more to share soon.